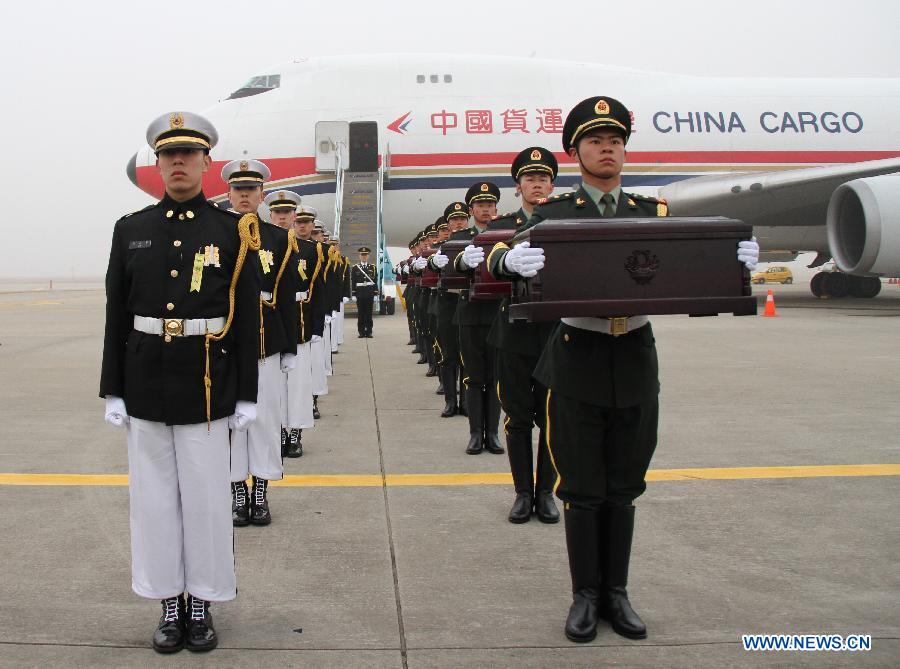 Soldiers of the Chinese People's Liberation Army carry coffins containing remains of soldiers of the Chinese People's Volunteers (CPV) dead in the 1950-53 Korean War, during a handover ceremony at the Incheon International Airport of South Korea, March 28, 2014. South Korea on Friday handed over to China the remains of 437 CPV soldiers dead in the Korean War. [Photo/Xinhua]
The remains of 437 Chinese People's Volunteers who died during the Korean War (1950-53) are due to arrive home on Friday for final burial.
The repatriation follows three months of efforts by South Korea to clean them and register the dead.
A Chinese plane carrying the remains is due to leave Incheon International Airport in South Korea and land at Shenyang Taoxian International Airport in Liaoning province two hours later.
A ceremony will be held at Shenyang airport, but the plan for final burial has not yet been decided.
On Thursday, the South Korean Defense Ministry confirmed that officials will hand over caskets containing the remains to a Chinese delegation at Incheon airport on Friday morning.
Kim Min-seok, spokesman for the ministry, said Beijing and Seoul have cooperated closely to prepare for the repatriation.
"This is a milestone in bilateral relations and is expected to serve as a good example of promoting peace in Northeast Asia," Kim was quoted as saying by Yonhap news agency.
About 20 buses took the caskets from a temporary morgue to Incheon airport, the ministry said.
Piao Jianyi, a researcher of Korean issues at the Chinese Academy of Social Sciences, said the repatriation will bring people of the two countries closer emotionally.
"The fact that Seoul has invested tremendous manpower and material resources to collect and preserve the remains is certain to move the Chinese public," Piao said.
"Birth and death are the two most important things in Oriental culture. Both Chinese and Koreans will agree that dead soldiers should come back to their homelands, just like falling leaves returning to the roots," he said.
South Korea began exhuming the remains in December when officials from the two countries agreed to repatriate them. More than 14,000 technical personnel took part in the work.
They spent more than three months cleaning and drying the remains naturally, as well as completing the identification and registration process.
During her visit to China in June, South Korean President Park Geun-hye offered to repatriate the remains to mark the 60th anniversary of the signing of the armistice to end the Korean War. The gesture was welcomed by Beijing.
The remains were mainly recovered from frontline areas in South Korea's northeastern province of Gangwon, the scene of fierce battles during the war, Yonhap reported.
The South Korean Defense Ministry said the remains of fallen Chinese soldiers will continue to be exhumed and repatriated.