Lack of resources, 'too many' babies force facility to suspend operations
The trial operation of the temporary shelter in Guangzhou, Guangdong province, for abandoned children was suspended on Sunday, after 262 babies and children were accepted since it opened on Jan 28.
Nanjing Children's Welfare Institution in Jiangsu province may also suspend its temporary shelter due to a lack of capacity to care for the children. The institution has received 136 babies since it opened the shelter in December.
"Normally we just receive 160 abandoned babies and children a year," said Zhu Hong, director of the Nanjing institution.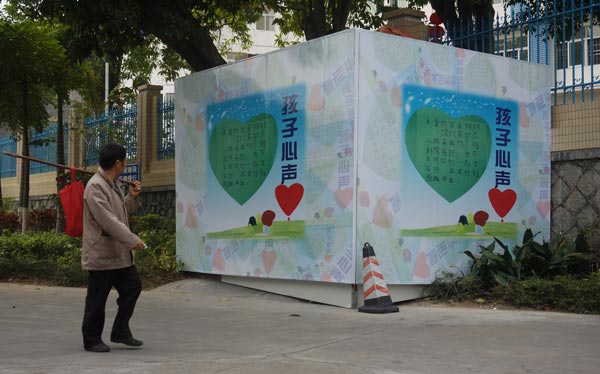 A man walks past a baby shelter outside the Guangzhou Social Welfare Home on Monday. The shelter was suspended on Sunday after receiving a total of 262 babies and children since it was put into use on Jan 28. Zou Zhongpin / China Daily 
"I may refuse to be interviewed in the future to avoid more publicity for the shelter," Zhu said. "Many people know about the shelter from the media and choose to abandon their children. Some people even drive from other cities to Nanjing to abandon their children."
Xu Jiu, director of Guangzhou Social Welfare Home, said the increasing number of children being dropped off at the facility's temporary shelter has put a strain on resources.
"Doctors and medical staff worry about the cross infection of diseases among the abandoned babies and children at the city's welfare home, as many abandoned babies now have to share a bed and other facilities," Xu said at news conference on Sunday afternoon.
The social welfare home, which has 1,000 beds, now houses 2,395 orphans and disabled young people.
"We have not decided when we will reopen the temporary shelter, and the Guangzhou Social Welfare Home will focus on curing the diseases of the abandoned babies and children who have been left at the shelter," Xu said.
In addition to infants, children aged 5 to 6 were also abandoned at the facility, Xu said.
All of the 148 boys and 114 girls abandoned at the temporary shelter over the past two months have been diagnosed with ailments including congenital heart disease, Down syndrome, brain failure and cleft lip.
Ninety-eight percent of the babies abandoned at the Nanjing temporary shelter have serious diseases and physical or mental disabilities.