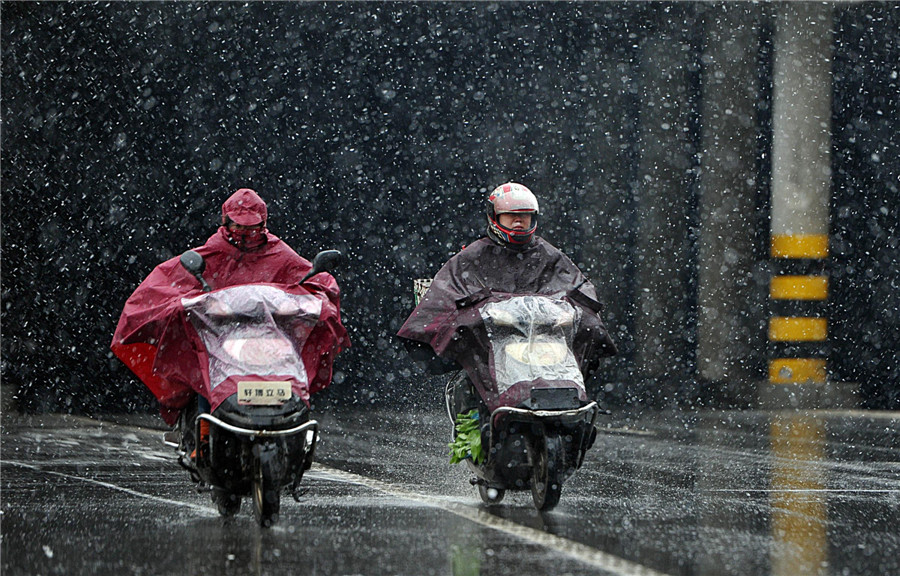 Two motorists brace for snow in Changsha, capital of Central China's Hunan province, on Feb 18, 2014. Hunan issued a blue alert for snowstorm at 7:00 am on Tuesday, forecasting that in the following 24 hours, cities including Changsha, Xiangtan, Hengyang and the northern Zhuzhou will see snowfall exceeding 7.5 mm. [Photo/Xinhua]
BEIJING -- China's National Meteorological Center continued to issue a blue alert for snowstorms on Tuesday morning, warning that blizzards will hit parts of Hubei, Jiangxi, Anhui and Zhejiang.
The center said heavy snow will also sweep parts of Hunan, Yunnan and Guizhou from Tuesday morning to Wednesday morning.
The country's weather observatory forecast that the bad weather will ease from Wednesday.
China has a four-tier color-coded warning system for severe weather, with red being the most serious, followed by orange, yellow and blue.