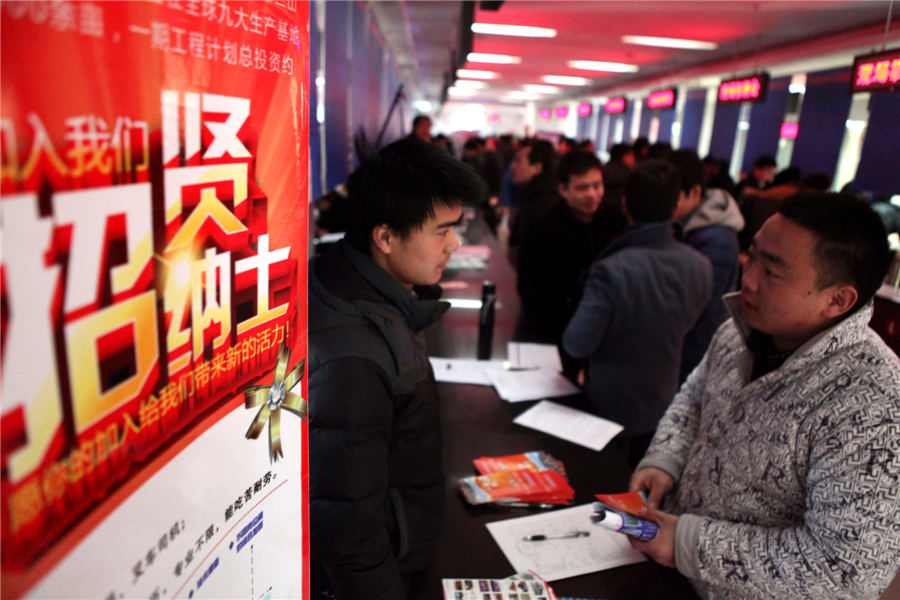 Thirty-five companies from Haozhou city of East China's Anhui province speak to potential employees at a job fair in Wuhu city, also in Anhui, about 3,427 posts that need to be filled, on Feb 10, 2014. Of the 1,600 job seekers at the fair, 1,100 found positions for which they would be considered. [Photo by Liu Qinli/Asianewsphoto]
The period after Spring Festival is a frenzied time in China's job market as many enterprises actively recruit new employees and many people change their jobs.
Government programs have brought better conditions to rural areas and the country's mid-western areas, prompting some migrant workers, especially from services and manufacturing sectors, to quit their jobs in eastern coastal cities and return to their hometowns to work in local businesses or resume farming, according to Xinhua reports.
The absence of employment contracts that define minimum working conditions and protect workers' legal rights has fueled the wave of migrant workers leaving their jobs, West China's Metropolis Daily reported on Sunday.