Pet shops and shelters are seeing a surge in demand as pet owners, embarking on journeys home, prepare to bid a reluctant farewell to their animal friends.
Wan Kang, a staff member with a community pet care center in North Beijing, said that the center can only take care of seven pets during the holiday. However, they have had about 20 inquiries from pet owners trying to ensure that their cats and dogs are fed, watered and looked after.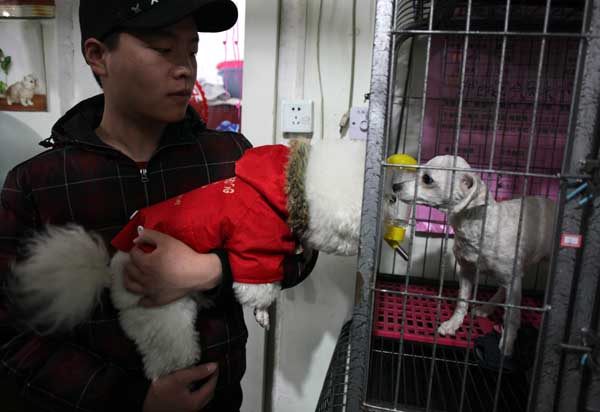 Two lodged pet dogs greet each other at a pet center in Beijing on Jan 29. Wang Jing / China Daily
Some pet owners are worried about the standard of care even if they find a temporary shelter.
Zhou Jie, from Beijing, has a pet cat but she needs to travel to Shanghai for the holiday.
"You can't take pets on trains, but considering the generally poor care in some pet shops, I'm thinking of leaving the cat at home and returning early," she said.
Liu Shanshan, a dog owner working in an education consulting company in Beijing said she will travel over Spring Festival and is considering sending her dog to a pet hospital as she believes the standard of care would be higher.
"The fee is 30 yuan ($5) per day for my dog in a pet hospital near my home and I think the environment of the pet hospital is better than a pet care center."
Some centers are charging higher prices than usual over the festival period.
Zhou Mingliang, the executive director of Love Pets International Foster Care Center, in Beijing's Tongzhou district, said they can provide services for 30 to 40 pets and more than 20 reservations have been confirmed for Spring Festival.
"The fee for small dogs is 50 yuan each day, 60 yuan for medium-sized dogs, and owners of large dogs will pay 80 yuan," Zhou said. But, and this is a crucial point, the owners have to provide pet food.
He said the reason for the higher fees was due to paying for extra staff over the holidays.
Apart from dogs, they also accept cats, rabbits, turtles and lizards.
"We provide free medical checks for your pets before they come into the center."
Owners also need to sign an agreement with the center and provide it with basic information, such as feeding times, particular habits and allergies.
One staff member looks after four or five dogs and each dog has a private area, which is sterilized.
Fang Handan, an animal lover ,sent his dog to a center and hopes all goes well.
"We can only hope that they provide good care, but there is no way for us to know," he said.
Contact the writers at yangyao@chinadaily.com.cn and fanfeifei@chinadaily.com.cn