Volunteers stage event for benefit of muscular dystrophy patient
A 9-year-old boy with a muscle disease realized his dream of being a policeman in a kidnapping case simulated by police and residents.
Zou Junyi, diagnosed with muscular dystrophy in Xinyu, Jiangxi province, received an award for being a "courageous policeman" from Mayor Cong Wenjing on Saturday.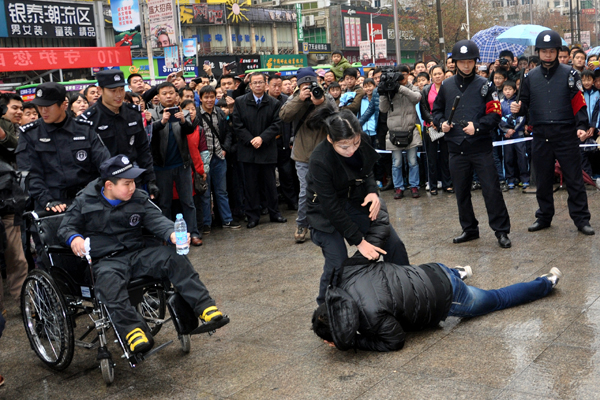 Zou Junyi (left, in wheelchair), who has muscular dystrophy, realized his dream of becoming a police officer in a drill staged by police and volunteers in Xinyu, Jiangxi province, on Saturday. Ao Weibing / for China Daily
The award was presented after Junyi, wearing a tailored police uniform, helped subdue two "kidnappers" and save three "hostages" played by volunteers.
Arrangements were made for Junyi, who uses a wheelchair, to direct traffic, watch police drills, and to visit the command center, where he was surprised to receive a call about the "kidnapping" case.
He and special police were sent to deal with the incident at the scene.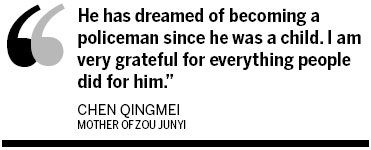 Policewoman Liu Jinfeng, 23, pushed Zou in his wheelchair toward the "kidnappers" on the pretext of delivering bottled water.
Liu was able to kick away a dagger held by one of the "kidnappers" and catch him. The other "criminal" was also caught later by police.
Inspired by Internet users, the project was initiated by the publicity department of the Xinyu City Committee of the Communist Party of China and the city's public security bureau.
More than 200 people signed up before the simulation, offering to play kidnappers and hostages for the boy. Five of them were selected.
Policeman Liu Yi, who played one of the "kidnappers", said he and his colleague Liu Jinfeng had practiced seizing the "kidnappers" many times during the past week.