Malaysia has much to offer investors
By Jin Rui ( China Daily )
Updated: 2013-10-05
Malaysia, ranked 25th of 144 economies in the Global Competitiveness Report 2012-2013, offers an excellent business environment for investors from all over the world.
According to the World Investment Report 2013 published by the United Nations Conference on Trade and Development, the country attracted $10.07 billion worth of foreign investment in 2012, and the stock of its foreign investment reached $132.4 billion by the end of the same year.
Investment climate
Convenient location, abundant human and natural resources, adequate infrastructure, a solid economic foundation and a stable political environment together have turned Malaysia into an ideal destination for foreign investors.
First of all, the country is located within the core zone of Southeast Asia, with easy access to the Middle East, Australia, New Zealand and the business markets of Association of Southeast Asian Nations.
It is the world's second-largest palm oil producer and third-largest natural rubber producer. Cocoa, timber and pepper are main agriculture exports as well.
In addition, Malaysia has the third-largest tin reserves in the world and a sizeable amount of rare metals, such as copper, gold, antimony, manganese, bauxite, chromium, titanium, uranium and cobalt.
Second, Malaysia's economy has maintained sustained growth in recent years. In 2012, its GDP grew 5.6 percent, bringing its per capita GDP to $9,974.
The government has started to implement their 15th Five-Year Plan (2011-15) in the recent years, which focuses on "economic booms and social justice."
The plan aims to develop private economy and creative industries, improve social environment, promote efficiency and transparency in government services as well as strengthen labor resources.
Infrastructure also adds to Malaysia's investment environment.
Foreign investors will be well served by the country's existing infrastructure, including well-constructed airports, highways, seaports, telecommunication and electricity systems. The government is also inviting foreign companies to invest in bringing Malaysia's infrastructure to a new level.
Malaysia has abundant labor resources. Citizens under 35 make up 63.9 percent of the whole population.
There are a considerable number of young educated local laborers that could provide great services to the firms at relatively low costs.
Last but not least, Malaysia is a mixture of races and ethnicity, resulting in rich diversity.
People of Chinese descent, accounting for 22.2 percent of the population, have been fully integrated into the local community.
Malaysia enjoys a stable social and political environment and maintains friendly relations with other countries in the world. It is a neutral nation and one of the founders of the Non-Aligned Movement.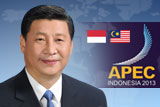 China should increase investment in ASEAN
China should ratchet up cooperation with Association of Southeast Asian Nations countries to expand Beijing's regional influence while countering Washington's Asia-Pacific pivot strategy.