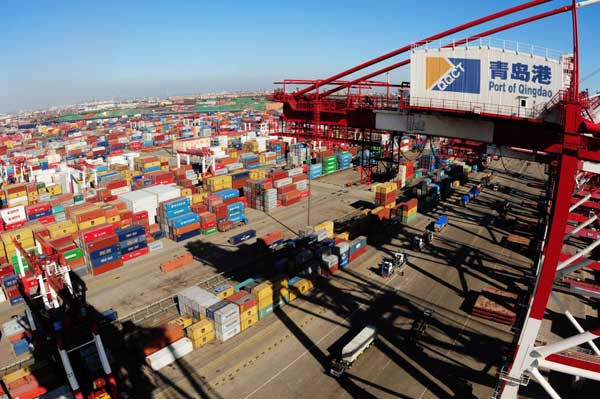 Photos taken on Nov 7, 2013 shows a container dock in Qingdao, Shandong province.  
China's stable economic development in October strengthened economists' expectations of a "happy ending" to the year, with industrial and service sectors progressing amid moderate inflation.
The National Bureau of Statistics reported on Saturday that October's industrial output reached 10.3 percent compared with 10.2 percent in September. The increase was higher than the market had expected and was led by manufacturing, which increased 11.4 percent from a year earlier.
Retail sales of consumer goods rose by 13.3 percent - the same rate as in September.
Fixed-asset investment, which has been the backbone of the world's second-largest economy in withstanding the global financial crisis, moderated slightly during the first 10 months to a growth rate of 20.1 percent, compared with 20.2 percent from January to September.
HSBC's Chief China Economist Qu Hongbin said there is no signal hinting at an economic slowdown in the fourth quarter, which departs from earlier expectations.
"The economic situation will not be worse in the last two months," he said.
Meanwhile, consumer inflation in October increased at a rate of 3.2 percent, compared with 3.1 percent in September. The rise was mainly caused by the 6.5 percent increase in food prices, the NBS reported.
In the first 10 months, the Consumer Price Index average was 2.6 percent, which is lower than the 2.7 percent during the same period last year.
The Producer Price Index, an indicator of industrial inflation, dropped faster in October, by 1.5 percent. It declined by 1.3 percent year-on-year in September.
Industrial Bank's Chief Economist Lu Zhenwei said consumer inflation is expected to remain moderate for the last quarter, and there is no need to worry about inflation pressure this year. However, industrial enterprises still face great pressure from excess production capacity, indicated by the continually softening out-the-factory-gate prices.
"Maybe the upward turning point of the economy still has to wait," Lu said.
As overall inflation has remained at a relatively low level, the current monetary policy is expected to remain unchanged, economists said.
"But some fine-tuning of the open-market operation may be needed to hedge capital inflows into the country," said Qu from HSBC.
In addition to positive short-term economic growth expectations, economists greatly anticipate the long-term balancing of development and structural reform.
They agreed that a 7 to 8 percent GDP growth will be a "normal speed" for China in the next decade - a shift away from the previous double-digit rates.
On the same day the NBS released the October economic indicators, a meeting of the country's top leaders to discuss the reform agenda for the next five to 10 years began in Beijing.
The leadership will try to push more sustainable growth and find ways to smoothly transform the development mode into a consumption-driven model.
UBS' Chief China Economist Wang Tao said: "We expect more tangible progress in service-sector deregulation, social welfare-system reform and financial-sector reforms in the next couple of years.
"But we think major breakthroughs in fiscal, land and State-owned enterprise reforms will be unlikely in the near future."
chenjia1@chinadaily.com.cn