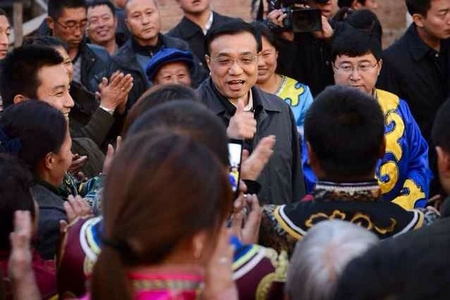 Premier Li Keqiang talks with flood-stricken villagers in Tongjiang, Heilongjiang province, Nov 4, 2013. [Photo/Xinhua] 
Premier Li Keqiang vowed to help flood-stricken residents rebuild their homes in Tongjiang, Heilongjiang province, on Monday.
"The government's primary concern is whether you can pass the winter warmly and safely," Li told residents as he visited a local family whose house was severely damaged after being inundated in water for more than a month during the summer's devastating flood.
He urged local governments to ensure that flood-stricken residents have a safe and warm winter.
Fuyuan and neighboring Tongjiang were both hit by devastating floods over the summer, damaging crops and creating economic losses in billions of yuan.
Liu Jinfu, 47, said his cornfield yielded next to nothing this year because of the flood, which created nearly 200,000 yuan ($32,790) in economic losses to the city.
Li arrived in Fuyuan county on Monday morning to inspect the resettlement of residents after floods struck in August.
Fuyuan was connected by railway in 2011. It covers Heixiazi, or Bolshoy Ussuriysky in Russian, a Sino-Russian border island.