Trending news across China
A bride is swept off her feet - into a helicopter. Clean up for free water, and be prepared to spend money if you visit Yunnan. It's all trending across China.
Helicopter wedding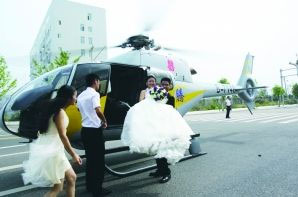 A bridegroom in Mianyang, Sichuan province, picked up his girlfriend of eight years in a helicopter on Saturday, to whisk her off to their wedding, Modern Express reported.
The cost of renting the helicopter was about 200,000 yuan($32,702).
Free water for clean visitors
National Day visitors to Huaqing Hot Spring in Xi'an, Shaanxi province, can get a free bottle of water when they collect trash on their visit.
The offer was welcomed by visitors, Nanfang Metropolis Daily reported.
Tour guide pressure
Local tour guides in Shangri-La county, Yunnan province, are forcing tourists to spend money at some scenic spots during the National Day holiday, CCTV reported.
"A knife will be held to your neck if you refuse to pay," said one tour guide, whose comment was recorded by a tourist.
IPR violation
A student with an expired Chinese visa was arrested by local police in London after he was caught with an illegal recording of film premieres.
Lack of knowledge about intellectual property rules is the main reason for rampant piracy activities in China, people commented on Sina Weibo.
Soccer in most-watched news
Xinwen Lianbo of China Central Television, the most-watched news program in China, devoted 12 seconds on Sunday to running news about the Guangzhou Hengda soccer team, triggering speculation of soccer's importance in China.
Electronic graffiti leaves walls clean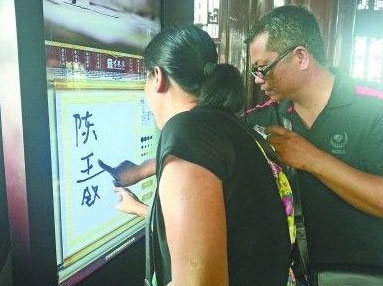 Three electronic graffiti walls were set up at Yellow Crane Tower, a scenic spot in Wuhan, Central China's Hubei province, during the National Day holiday, leaving the main building's pillars and walls graffiti-free. Visitors can save their graffiti work to an individual mailbox via the new "graffiti wall", using its wireless Internet, and they can also view bus lines and hotel information, whwb.cjn.cn reported.
Bosses get more wedding cash
A survey of 100 people in different occupations found a large discrepancy between cash gifts at wedding banquets for bosses and colleagues. The survey found that nearly 60 percent of people give more wedding money to their bosses than colleagues, and the amount was nearly double, the Beijing News reported.
Reselling train tickets
Used train tickets can be sold for 15 yuan ($2.50) at Zhengzhou railway station, Zhengzhou, Central China's Henan province. Lawbreakers can acquire personal information from the train tickets for making fake IDs, china.cnr.cn reported.

Editor's picks

Copyright 1995 - . All rights reserved. The content (including but not limited to text, photo, multimedia information, etc) published in this site belongs to China Daily Information Co (CDIC). Without written authorization from CDIC, such content shall not be republished or used in any form. Note: Browsers with 1024*768 or higher resolution are suggested for this site.
Registration Number: 130349