Xi stresses CPC criticisms, self-criticisms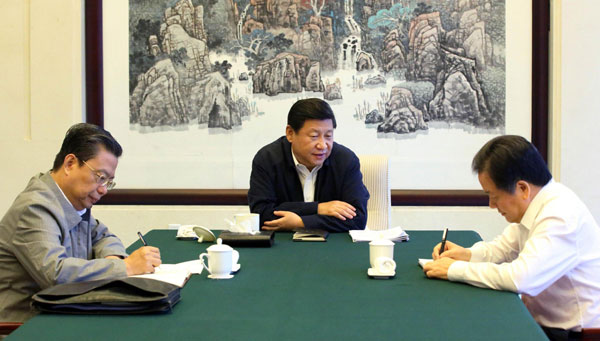 Xi Jinping (C), Chinese president and general secretary of the Communist Party of China Central Committee, participates in a session as part of the ongoing "mass line" campaign with standing committee members of the Party Committee of North China's Hebei province, in Shijiazhuang, the capital of Hebei, Sept 23, 2013. [Photo/Xinhua]
SHIJIAZHUANG - Xi Jinping, leader of the Communist Party of China (CPC), has urged leading officials to constantly relay criticisms and self-criticisms to improve capabilities to find and solve their own problems.
"Criticisms and self-criticisms are forceful weapons to solve contradictions within the Party," said Xi, general secretary of the CPC Central Committee, while participating in sessions held between Sept 23-25 as part of the ongoing "mass line" campaign.
During the sessions, standing committee members of the Party Committee of north China's Hebei Province examined their own conduct, laid out major problems, analyzed the causes and set down plans for rectification.
"Our weapons for self-protection and disease treatment shall not be discarded," Xi said.
He urged CPC members, especially officials at various levels, to courageously and constantly relay criticisms and self-criticisms so as to boost unity and implementation of democratic centralism.
Criticisms and self-criticisms should be carried out honestly and based on facts, he said, urging Party members to have open minds and disregard any selfish considerations, and touch upon real problems and work out solutions.
The one-year "mass-line" campaign was launched in June by China's leaders to boost ties between CPC officials, members and the people, while cleaning up four undesirable work styles -- formalism, bureaucracy, hedonism and extravagance.
During the sessions, Xi called for a persistent fight against the four undesirable work styles as they are "harmful, stubborn in nature and prone to relapse."
"The 'mass-line' campaign ... should not tail off once it gets started," he urged.

Editor's picks

Copyright 1995 - . All rights reserved. The content (including but not limited to text, photo, multimedia information, etc) published in this site belongs to China Daily Information Co (CDIC). Without written authorization from CDIC, such content shall not be republished or used in any form. Note: Browsers with 1024*768 or higher resolution are suggested for this site.
Registration Number: 130349