Strict supervision urged for 'mass line' campaign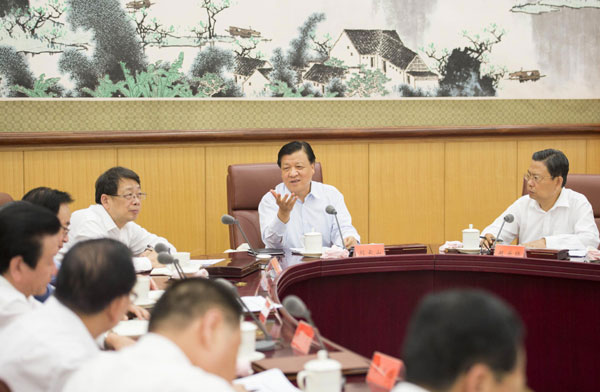 Liu Yunshan, center, a member of the Standing Committee of the Political Bureau of the Communist Party of China (CPC) Central Committee, speaks at a meeting on the supervision of the "mass line" campaign in Beijing, Sept 13, 2013. The one-year educational campaignwas launched in June by China's leaders to boost ties between CPC officials, members and the people, while cleaning up undesirable work styles such as formalism, bureaucracy, hedonism and extravagance. [Photo/Xinhua]
BEIJING - Liu Yunshan, senior official of the Communist Party of China (CPC), has called for "strict and honest" supervision for an ongoing campaign that aims to straighten Party members' behavior.
Liu, a member of the Standing Committee of the Political Bureau of the CPC Central Committee, made the remarks Friday at a meeting on the supervision of the "mass line" campaign.
The one-year educational campaign was launched in June by China's leaders to boost ties between CPC officials, members and the people, while cleaning up undesirable work styles such as formalism, bureaucracy, hedonism and extravagance.
During the meeting, supervisors with the central authorities reported on the progress and issues spotted during implementation of the campaign among local Party members and vowed to stick to effective and impartial supervision, according to a statement released after the meeting.
"As the educational campaign goes deeper, it will touch on more deep-rooted problems, and supervision will have to be strengthened without slackening," Liu was quoted in the statement as saying.
According to Liu, supervisors must overcome fears and indolence to spot problems during the campaign, since the quality of their work affects the results of the campaign.
Liu urged supervisors to focus on the work style of leading officials, who would set an example for lower officials.
"The real situations of local Party and government departments must be thoroughly understood," said Liu, urging supervisors to accurately eliminate problems that had triggered the most vehement public outcries.
According to Liu, supervisors should listen to grassroots officials and citizens more often and urge Party members to correct questionable behavior immediately after it is uncovered.

Editor's picks

Copyright 1995 - . All rights reserved. The content (including but not limited to text, photo, multimedia information, etc) published in this site belongs to China Daily Information Co (CDIC). Without written authorization from CDIC, such content shall not be republished or used in any form. Note: Browsers with 1024*768 or higher resolution are suggested for this site.
Registration Number: 130349