'Mass line' campaign urged to address real problems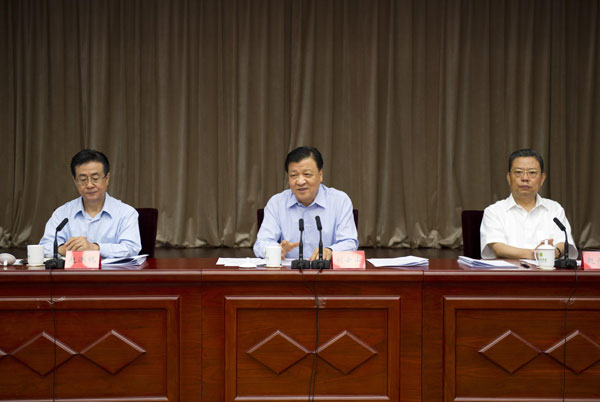 Liu Yunshan (C), a member of the Standing Committee of the Political Bureau of the Communist Party of China (CPC) Central Committee and also the head of the "mass line" campaign, speaks at a symposium on the campaign in Beijing, Aug 30, 2013. The one-year "mass line" campaign was launched in June by China's leaders to boost ties between CPC officials and members and the people, while cleaning up undesirable work styles such as formalism, bureaucracy, hedonism and extravagance. [Photo/Xinhua]
BEIJING - The "mass line" campaign of the Communist Party of China (CPC) Central Committee should address real problems of  members' work styles, said a senior official on Friday, adding that there is no way to fight formalism with formalism.
Liu Yunshan, a member of the Standing Committee of the Political Bureau of the CPC Central Committee, stressed that strict standards, measures, and discipline should be applied to the "mass line" campaign, at a symposium on the campaign.
The one-year campaign was launched in June by China's leaders to boost ties between CPC officials and members and the people, while cleaning up undesirable work styles such as formalism, bureaucracy, hedonism and extravagance.
Liu, head of the campaign team, said the problem is not whether the four forms of undesirable work styles exist or not.
"The problem is whether the harmful work styles exist in a serious, prevalent, and deep-rooted manner, or in a lighter form," he said.
Liu asked leading officials to act as examples to their subordinates and other CPC members and take the lead to find deep-rooted, concrete problems and work them out.
During the campaign, Party members should deal with prominent, practical problems concerning undesirable work styles which have aroused public complaints, he said.
Those who knowingly violate Party discipline should be severely punished so as to have a warning and deterrent effect among others, Liu said.

Editor's picks

Copyright 1995 - . All rights reserved. The content (including but not limited to text, photo, multimedia information, etc) published in this site belongs to China Daily Information Co (CDIC). Without written authorization from CDIC, such content shall not be republished or used in any form. Note: Browsers with 1024*768 or higher resolution are suggested for this site.
Registration Number: 130349