First 259 units deployed for campaign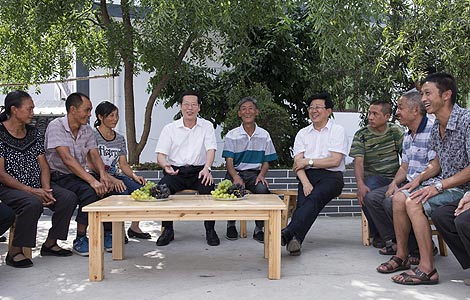 Zhang Gaoli (4th L) talks to farmers during his visit to Guizhou on July 21, 2013. [Photo/Xinhua]
BEIJING - The first batch of 259 units have been mobilized and deployed for the "mass line" education campaign, which the central leadership of the Communist Party of China (CPC) has initiated to strengthen ties with the people.
These units include official agencies at the provincial or ministerial level, vice provincial-level municipal organs and units directly under them, as well as enterprises, financial institutions and universities managed by the central authorities, according to the office of the campaign's leading group.
"Mass line" refers to a guideline under which CPC officials and members are required to prioritize the interests of the people and persist in representing them and working on their behalf.
Recently, the seven members of the Standing Committee of the Political Bureau of the CPC Central Committee conducted local inspections as part of the campaign.
Xi Jinping, general secretary of the CPC Central Committee, visited north China's Hebei Province on July 11 and 12. Li Keqiang inspected south China's Guangxi Zhuang autonomous region, and Zhang Dejiang, Yu Zhengsheng, Liu Yunshan, Wang Qishan and Zhang Gaoli visited Jiangsu, Gansu, Zhejiang, Heilongjiang and Sichuan provinces, respectively,
During the inspections, the seven leaders held seminars with local officials and grassroots people and heard reports from local Party committees. They also set down requirements for local "mass line" education campaigns.
According to the office of the leading group, supervision related to the campaign is in full swing.
The leading group has set up 45 central supervisory teams and assigned 79 cadres at the provincial or ministerial level as heads and deputy heads of these teams.

Editor's picks

Copyright 1995 - . All rights reserved. The content (including but not limited to text, photo, multimedia information, etc) published in this site belongs to China Daily Information Co (CDIC). Without written authorization from CDIC, such content shall not be republished or used in any form. Note: Browsers with 1024*768 or higher resolution are suggested for this site.
Registration Number: 130349