Senior leader stresses improving CPC work style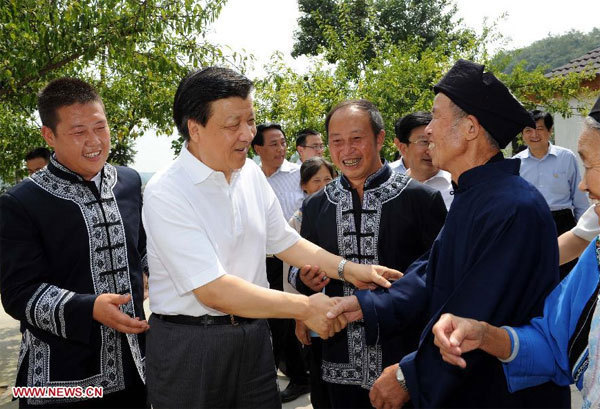 Liu Yunshan (2nd L), a member of the Standing Committee of the Political Bureau of the Communist Party of China (CPC) Central Committee, talks with locals at Wuluoba village in Qianxi county, Southwest China's Guizhou province, Aug 23, 2013. [Photo/Xinhua]
GUIYANG - Senior Communist Party of China (CPC) leader Liu Yunshan has urged Party members to improve their work style and enhance ties with the masses.
Liu, a member of the Standing Committee of the Political Bureau of the CPC Central Committee, made the remarks during an inspection tour of Southwest China's Guizhou province on Friday and Saturday.
All Party members should sincerely accept suggestions and criticism from the public and try to make improvements to satisfy the people, he said.
During his two-day tour, Liu visited villages, communities and factories in Guizhou, and exchanged views with old Party members, poverty-stricken people and grassroots cadres.
Liu urged officials to treat the masses as their family members and put themselves in the public's shoes in order to strengthen their sense of serving the people.
Relentless efforts should be made to fulfill the people's expectations and aspirations and bring benefits to them, he urged.

Editor's picks

Copyright 1995 - . All rights reserved. The content (including but not limited to text, photo, multimedia information, etc) published in this site belongs to China Daily Information Co (CDIC). Without written authorization from CDIC, such content shall not be republished or used in any form. Note: Browsers with 1024*768 or higher resolution are suggested for this site.
Registration Number: 130349