Trending news across China on Sept 18
Who set off firecrackers at the airport? Crocodile meat - it tastes just like chicken. And don't miss the year's fullest moon - it's all trending across China.
Student unrest
Students at a high school in Henan province said a student riot that shocked the nation on Sept 14 was an eruption of simmering discontent about the school's rigid managing style. The remarks were in response to the headmaster's blaming the incident on the canteen's food at the No 2 High School in Zhecheng. (www.xinhuanet.com)
Fullest moon
The moon will have its roundest shape of the year right on the night of Mid-Autumn Festival at 19:13, CCTV said on Sina Weibo, reminding people not to miss the sight, as the next time this will occur is 2021.
Airport firecracker drama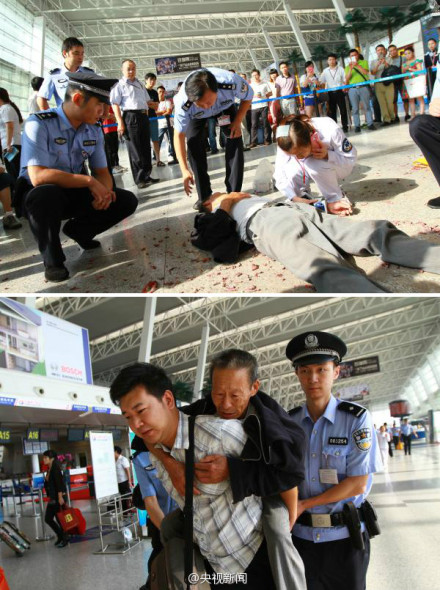 A man was arrested on suspicion of setting off firecrackers on Wednesday morning at Terminal 2 of Wuhan Tianhe International Airport. The man, in his 70s, was lying in the firecracker rubble, causing a scene at the airport. No injuries were reported. Police began an investigation of the incident, CCTV reported on Sina Weibo.
Uncivilized tourist behavior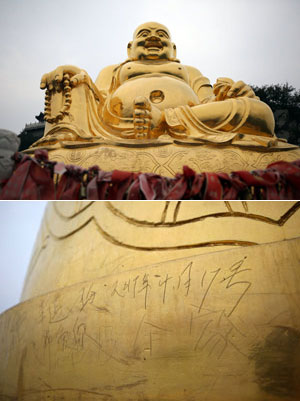 Photos/CFP
Chinese tourist behavior was in the spotlight again after a Buddha statue in Beijing became the victim of scratches, with the usual online reaction of disgust, ire and soul searching. Workers in the scenic area have repaired and coated the statue at a high cost, but apparently it's still not enough to raise tourist awareness. (www.163.com)
Gift giving loophole
Gift givers have tapped online shopping in the wake of a crackdown on government spending for the upcoming Mid-Autumn Festival and National Day, two gift-sending occasions. Most online stores offer invoice delivery service, creating loopholes as shoppers can label the items themselves. For example, hairy crabs, a popular gift item, can be listed as stationery on the invoice. (www.chinanews.com)
Heaven Sword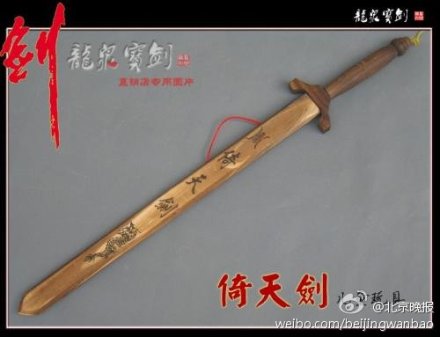 When a young man was asked to dump his wooden sword before boarding a plane at Baiyun International Airport in Guangzhou, he began demonstrating some martial arts moves using the sword, which was carved with "Heaven Sword" (Yitianjian), a famous weapon from one of Jin Yong's most renowned martial arts novels. The man said he was a big martial arts fan, and fell in love with the sword the moment he saw it while traveling in Guangzhou. (news.xinhuanet.com)
Crocodile meat
A supermarket in Xi'an, Shaanxi province, began selling crocodile meat for 39-54.5 yuan per kilogram, offering a range of body parts, attracting few buyers but much attention from passers-by. Shoppers said it seems terrifying, and the Guangdong delicacy needs some time to be accepted by the Shaanxi stomach. (society.people.com.cn)
Super fish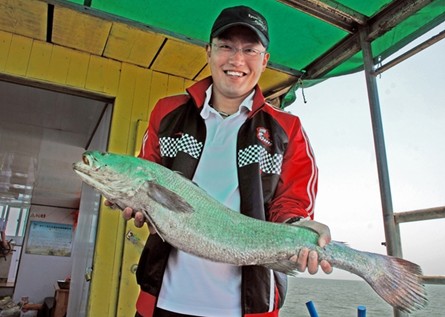 A fisherman from Jiayi county in Taiwan caught a 45.5-kilogram brown croaker, a kind of edible fish usually weighing 2 kg to 5 kg on average, even though the fish is not in season. The super fish will be auctioned. One buyer offered 5,050 yuan, which works out to be about 111 yuan/kg. (s1979.com)

Editor's picks

Copyright 1995 - . All rights reserved. The content (including but not limited to text, photo, multimedia information, etc) published in this site belongs to China Daily Information Co (CDIC). Without written authorization from CDIC, such content shall not be republished or used in any form. Note: Browsers with 1024*768 or higher resolution are suggested for this site.
Registration Number: 130349