Trending news across China, Sept 16
Valuable wood dispute
Ebony found in the hirst by a farmer in Jiangxi province is estimated to be worth several hundred million yuan, China Central Television reported. The local government of Yongxiu county, where the ebony was found, however, claimed that the ebony should be owned by the State, which sparked hot debate on the Internet. Who do you think should own the ebony? (www.xinhuanet.com)
Luxury policewear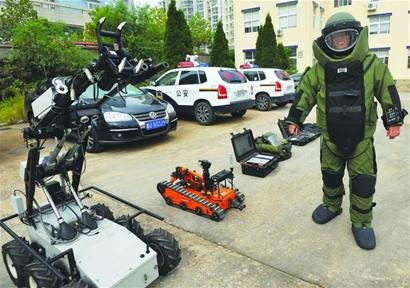 How much do you think the latest explosion-proof outfit worn by explosive ordnance disposal policemen costs? It's 300,000 yuan. It took a reporter five minutes to put on a 25-kilo explosion-proof kit, even with the help of two policemen. The Chinese regimental police showed their latest equipment in a drill in Qingdao on Sep 10, according to a report of Qingdao Evening News. Also in the show is a homemade sniper rifle that is 110 cm in length, 6.4 kilos in weight and has a range of 2,000 meters. (www.qq.com)
Accident in the air
Enjoy terrifying, high-altitude recreational facilities? If you do, please pay attention to your safety lock before you get started. Three people in Xi'an, Shaanxi province were thrown out of their seats while enjoying the rides, People's Daily Online reported. One of the three said the accident may be a result of their unchecked safety lock. The three people are still in the hospital, one of them in the ICU.
Deflated duck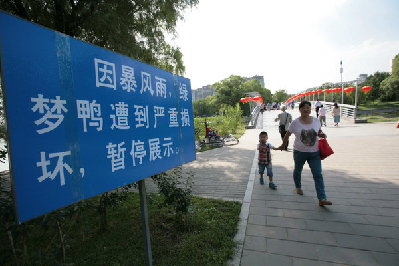 The green rubber duck exhibited in Yuyuantan Lake in Beijing to promote environmental awareness has been removed because of air leakage after a heavy rain last Thursday, Beijing Daily reported. The duck has attracted many people after it was put in the lake on Sept 5. Some netizens said that it's really a cheap copy of the original giant yellow duck. (http://news.youth.cn)
Animal teats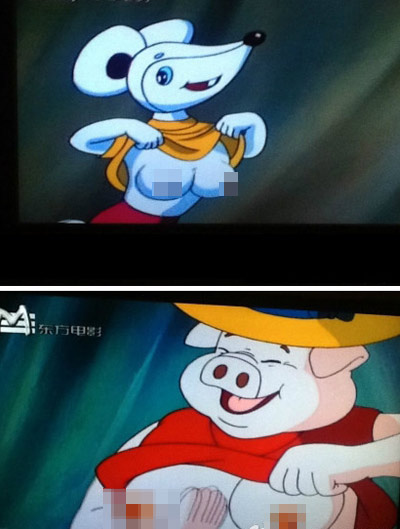 A set of photos from an old Chinese cartoon which feature animals sporting bare human breasts caused an online sensation, with some questioning whether TV censorship then was too lax. The animation, made in 1993, was about animals in lactating animals volunteering to breastfeed orphans from an earthquake-striken area. (www.northnews.cn)
Fake Lamborghini
A man from Chongqing who hawked a car he customized to look like a Lamborghini, a luxury car that sells for 98,000 yuan, ended up with an 800 yuan fine. Police requested he dismantle the car's sleek exterior on Monday. He bought the second-hand car for 30,000 yuan and made the changes it for two thousand yuan. (www.nbd.com.cn)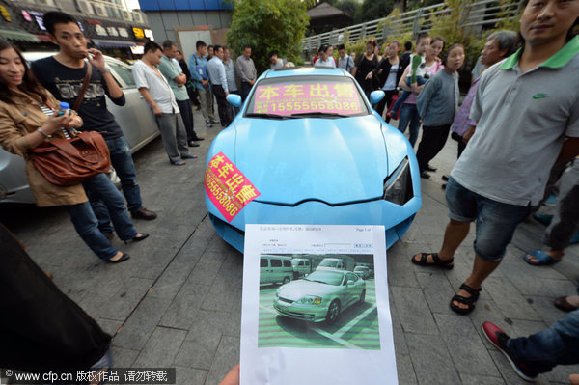 Sneaky car plates
Getting one license plate number of Beijing has always been considered difficult. Some people find a way of making money by collecting license plate numbers of scrapped vehicles. One woman, for example, collected more than 2,700. Recently people engaged in this activity have written off more than 4,000 license plate numbers after they were told by the police that many of the numbers under their names owe large amounts of unpaid road tolls and are even involved in tax evasion, Beijing Youth Daily reported.
Nude protest
A Russian student stripped during a sit-in protest Sunday on a busy street in Haikou, Hainan province, making jaw-dropping passers-by and cars stop. The student, identified as Limag, refused to leave although his friends tried to talk to him. Police took him away when his actions caused a traffic jam. (people.com.cn)

Editor's picks

Copyright 1995 - . All rights reserved. The content (including but not limited to text, photo, multimedia information, etc) published in this site belongs to China Daily Information Co (CDIC). Without written authorization from CDIC, such content shall not be republished or used in any form. Note: Browsers with 1024*768 or higher resolution are suggested for this site.
Registration Number: 130349