Disabled Chinese remain most needy: Zhang Haidi
BEIJING - Disabled people remain one of the most needy groups in China with many living below the poverty line, said Zhang Haidi, chairwoman of the China Disabled Persons' Federation here Tuesday.
About 15 million rural disabled people and more than 2.6 million urban disabled are living below the poverty line, Zhang said.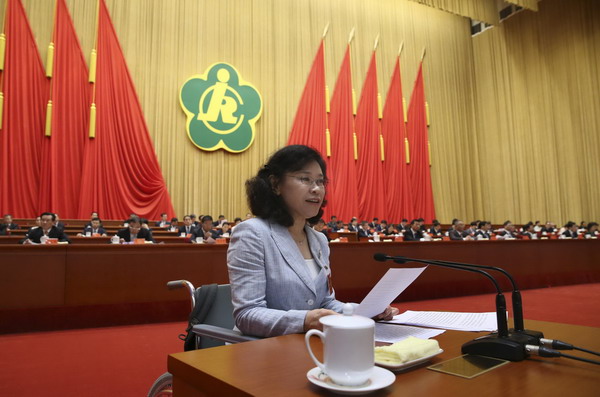 Chairperson of the China Disabled Persons' Federation Zhang Haidi delivers a report at the sixth national congress of the China Disabled Persons' Federation, in Beijing, capital of China, Sept. 17, 2013. The sixth national congress of the China Disabled Persons' Federation kicked off on Tuesday. [Photo/Xinhua]
The average per capita disposable income of disabled people is around half of the country's average level while the disabled have less access to public services in medical, education, employment and transportation, she said.
Also, about 2.8 million rural disabled people do not have a home or live in unsafe houses, the chairwoman said.
A survey by the National People's Congress, China's top legislature, showed that the average per capita income of an urban disabled family stood at 8,700 yuan (1,422 U.S. dollars) annually. The national level was 19,109 yuan. The figure for a rural disabled family was 3,630 yuan, compared with the national level of 5,919 yuan.
About 22.7 percent of the 5,982 disabled people that were surveyed talked about difficulties in getting rehabilitation therapies since more than 55 percent of communities and villages did not offer such services, the survey said.
In the next five years, the federation will push the government to cover the whole disabled population with social security programs and the minimum income scheme, as well as include rehabilitation therapies for the disabled in the medical insurance program, Zhang said.
The federation will also work to improve employment of disabled people by lobbying more public institutions and companies to hire disabled workers and creating jobs suitable for them, she said.
Despite difficulties, the country has made progress in improving disabled people's livelihood over the past five years, Zhang said.
More than 4.8 million rural disabled people have increased their income above the poverty line while 10.7 million rural and urban disabled people have been covered by the minimum income scheme over the past five years.
In addition, about 12 million disabled people have received rehabilitation therapies.
About 380,000 disabled children and teenagers have enrolled in schools, 20,000 of which have studied in high schools and 30,000 in colleges.

Editor's picks

Copyright 1995 - . All rights reserved. The content (including but not limited to text, photo, multimedia information, etc) published in this site belongs to China Daily Information Co (CDIC). Without written authorization from CDIC, such content shall not be republished or used in any form. Note: Browsers with 1024*768 or higher resolution are suggested for this site.
Registration Number: 130349