Parents of plane crash victims to leave for US
JIANGSHAN, Zhejiang - Parents of the victims of the plane crash in San Francisco will leave for the United States Monday, according to the vice principal of the victims' middle school in East China's Zhejiang province.
A total of 12 parents - for the two teenage girls killed and for another two injured in the plane crash -- will travel to Shanghai to obtain their visas before boarding a flight bound for San Francisco later on Monday, Zheng Liming, vice-principal of Jiangshan Middle School, said at a press conference Monday morning.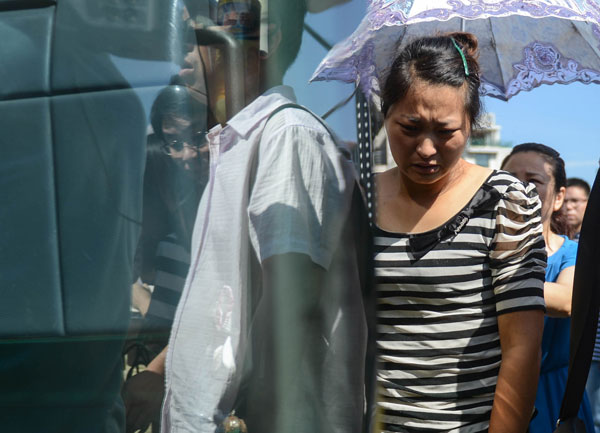 Mother of Wang Linjia, one of two victims of the plane crash in San Francisco, leaves for the United States Monday, in Jiangshan, Zhejiang province. [Photo/Xinhua]
The parents will be accompanied by two teachers from the victims' middle school and four officials from Jiangshan City in East China's Zhejiang province.
Their flight to San Francisco will be arranged by Asiana Airlines, the operator of the Boeing 777 aircraft that crashed while landing at San Francisco International Airport on Saturday.
The crash has left the two teenage girls dead and 182 injured. According to Asiana Airlines, 141 Chinese citizens were aboard the craft.
The two girls killed in the crash are among a group of 30 students and five teachers from Jiangshan Middle School, who traveled to the United States for a summer camp.
According to sources with Shanghai Pudong International Airport's border inspection station and Asiana Airlines, more than 90 passengers departed Shanghai on Asiana Airlines Flight OZ362 to Seoul, and then transferred to Flight 214 to San Francisco.

Related: Air crash passengers prayed for lives

          70 Chinese students, teachers on crashed plane

          Vehicle may have run over air crash victim

Editor's picks

Copyright 1995 - . All rights reserved. The content (including but not limited to text, photo, multimedia information, etc) published in this site belongs to China Daily Information Co (CDIC). Without written authorization from CDIC, such content shall not be republished or used in any form. Note: Browsers with 1024*768 or higher resolution are suggested for this site.
Registration Number: 130349