Disaster drill to improve SCO cooperation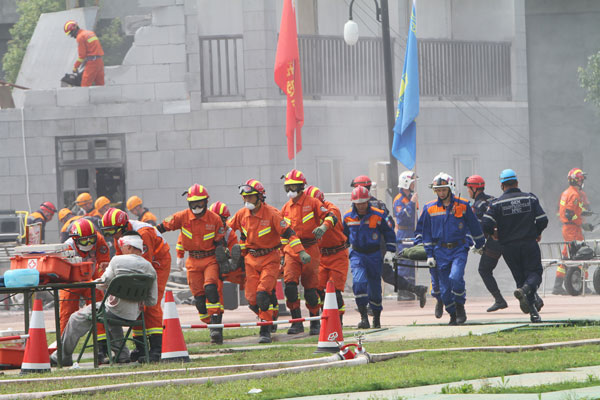 Disaster relief teams from Shanghai Cooperation Organization member countries participate in a disaster relief drill in Shaoxing, Zhejiang province, on Sunday. Under the scenario of the drill, a deadly magnitude-8 earthquake has occurred in a large city in Zhejiang, and China has asked for help from other SCO members. YU CHANGLONG / FOR CHINA DAILY 
Members of the Shanghai Cooperation Organization vowed to enhance disaster relief cooperation when major disasters occur.
A joint disaster relief drill code named "Rescue Cooperation 2013" was held among SCO members in Shaoxing, Zhejiang province, from Tuesday to Sunday to exchange experiences in handling disasters in big cities.
Disaster relief teams from China, Russia, Kazakhstan, Kyrgyzstan and Tajikistan participated in the drill, and more than 1,000 people attended. A deadly magnitude-8 earthquake was supposed to occur in a large city in Zhejiang, and China asked for help from other SCO members.
The drill included rescue operations in collapsed buildings, crashed planes, subway carriages and buses, and oil tanks that had exploded.
Li Liguo, minister of civil affairs, said the drill is aimed at facilitating disaster relief cooperation among SCO members.
"Cooperation in disaster relief has become a core part of cooperation among SCO members. We hope the drill can help enhance a united command and cooperation mechanism for all SCO members," he said.
SCO members signed an agreement on mutual assistance in disaster relief in Moscow in October 2005.
The first joint drill was held in Russia in 2009.
Dikhanbek Satylganov, director of Emergency Mitigation Department of Kazakhstan's Ministry of Emergency Situations, said the drill offered a wonderful opportunity for rescue teams from each country to share experiences and learn from each other.
"Big cities are with high civil and economic activity density. Mega disasters can be deadly. Therefore, there are huge challenges in how rescues can be applied. I am glad we had the opportunity here to discuss how to improve our ability to provide emergency aid," he said.
A seminar was also held to share disaster relief experiences among SCO member states and observers.