Tibetan artist nurtures his culture
Tibetan painter Nyima Tsering enjoys telling reporters they can ask him any questions they like about Tibet.
"I am ready to share my answers no matter how tough the questions seem to be," Nyima Tsering says during his paintings' tour in Australia.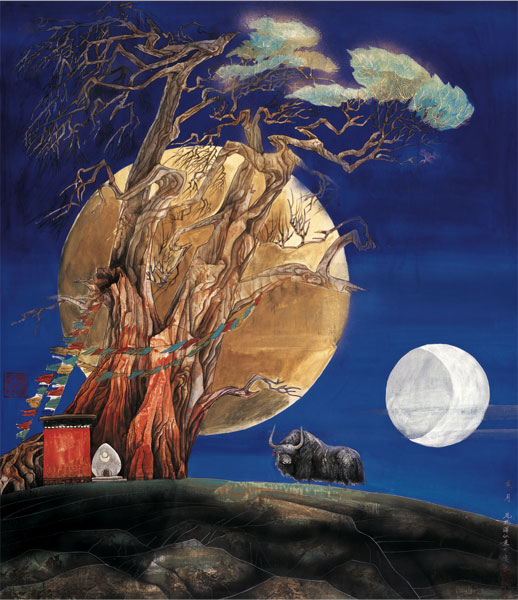 Nyima Tsering incorporates traditional Tibetan cultural elements, such as colors, forms and aesthetic styles, into his art. [Photo Provided to China Daily]
Culture is in a process of constant evolution and engagement with other cultures, and there's no hope for any culture in the world that get stucks in the past or closes itself to the outside world, he told reporters in Sydney.
"I can understand that some people appreciate more the primitive flavor of the Qinghai-Tibet Plateau, but the vitality of Tibetan culture depends more on its growth, and the whole world is also developing."
He says that many Han people are now in Tibet, and many Tibetans, including artists like himself, work or create art in Beijing and other cities.
Nyima Tsering emphasized that the problems that Tibetan culture faces today are a reflection of China's urbanization and globalization.
"Among 56 ethnic groups in China, Tibetans and Naxi (ethnic group) actually have best maintained their distinctive cultural identity and arts. Many art forms of Han people are facing a loss of audience, and there are many once powerful nomadic peoples whose culture disappeared in China's history," he says.
After growing up in Dege county in the Garze Tibetan autonomous prefecture in Sichuan province, Nyima Tsering received professional training in painting at the Sichuan Academy of Fine Arts in 1958 and returned to his hometown in 1962 after graduation.
"My Han teacher told me that no scientific knowledge of fine arts you have learned can replace the Tibetan ethnicity," he says. "It is the core source of a Tibetan painter."