China, India can build trust: Li
Two nations sign agreements covering trade, culture and water resources
Border disputes and trade friction cannot prevent China and India from building strategic mutual trust and cooperation, Premier Li Keqiang said during his visit to India on Monday.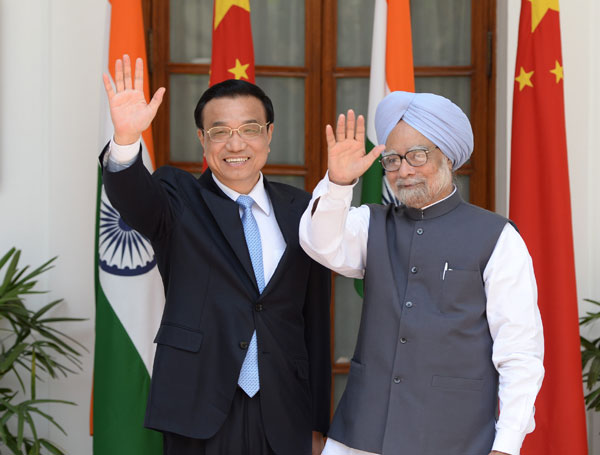 Premier Li Keqiang meets his Indian counterpart Manmohan Singh in New Delhi on Monday during his first foreign trip since taking office. Xinhua
The two nations enjoy "far more common interests" than differences, he said after meeting Indian Prime Minister Manmohan Singh, adding that the countries will not harm one another, because neither will benefit from doing so.
Both nations have enough will, wisdom and capability to jointly create "new bright spots" in cooperation among Asian countries to provide a driving force for the world economy, Li said.
On the second day of his official visit to India — the first stop on Li's nine-day first foreign tour since taking office in March, China and India signed a joint statement and a series of agreements covering trade, culture and water resources.
The two nations proposed building an economic corridor across Myanmar and Bangladesh to connect two major economies in Asia. They also said they want to seek further cooperation in the development of industrial zones and public infrastructure projects.
Singh said, "We agreed that the relationship between our two economies is of growing significance and is essential for our peaceful development and sustained economic growth, as well as for stability and prosperity in our region and the world."
He said economic cooperation constitutes a very important part of the Sino-Indian relationship.
"I conveyed to Li our concerns about the trade deficit, and sought increased market access to China for our exports and investment. I also invited increased Chinese investment ... in our infrastructure and manufacturing sectors."
China is India's second- largest trading partner, while India is China's largest trading partner in South Asia. In 2012, the bilateral trade volume was about $70 billion, and the two countries have set a bilateral trade target of $100 billion by 2015.
But India has frequently expressed concerns over the trade deficit with China and has been an aggressive initiator of trade-remedy cases targeting China in past years.
In 2012, China's trade surplus with India was $28.87 billion, according to the General Administration of Customs.
The two countries decided to set up three groups under their Joint Economic Group to advance the bilateral service trade, trade planning and trade statistical analysis.
Long Guoqiang, director of foreign economic relations at the State Council Development Research Center, a high-level government think tank, said, "The two countries are more mutually complementary than they are mutually competitive. And there is large potential for their cooperation."
The proposed China-India-Myanmar-Bangladesh economic corridor would provide an innovative economic link between East Asia and South Asia, which could create huge demand for China and India and strengthen their economic growth, Long said.
"As the two biggest economies among emerging markets, China-India mutual development based on industrialization and urbanization will lead fast expansion of the BRICS countries and drive the recovery of the global economy," he added.
Wang Haifeng, an expert at the Institute of Foreign Economics under the National Development and Reform Commission, said strengthening mutual trust between the two countries will help boost China's direct investment in Indian infrastructure construction projects, such as railways and airports. Meanwhile, India's high-tech and service exports to China are likely to increase.
"Mutual trust is also the basis to removing trade friction between the two fast-growing economies. Once the obstacle is cleared, it will be very easy to achieve the goal of $100 billion bilateral trade value by the year 2015," Wang said.
Premier Li wrote in an article published by The Hindu newspaper on Monday, "China's development promises opportunities for India, and India's development promises opportunities for China. Our common development will benefit people of the two countries and offer the world more and better opportunities."
India and China have withdrawn troops from camps a few meters apart in a Himalayan desert, ending a three-week standoff.
During his recent meeting with Indian External Affairs Minister Salman Khurshid in Beijing, Li said friendly cooperation is central to China-India relations, and common interests outweigh differences.