Officials must improve their work style
Close ties must be developed with people, says Party School president
Officials should continue to improve their work style and develop close ties with the people, said Liu Yunshan, president of the Party School of the Central Committee of the Communist Party of China.
Liu, also a member of the Standing Committee of the Political Bureau of the CPC Central Committee, said on Thursday that government officials should keep in mind that the people are their root and basis.
He made the remarks at the opening ceremony of a semester of the Party School of the Central Committee of the CPC.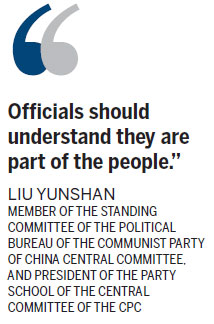 "Officials should understand they are part of the people," he said.
Liu also urged officials to get rid of formalism, bureaucracy, hedonism and extravagancy and get close to the people.
It's not the first time that improving work style was highlighted by authorities.
To improve work style and get close to the people, the CPC Central Committee put forward "eight measures" in December, including fewer traffic controls for leaders' security on their trips and no flowers or carpets for government meetings.
Improving work style is one of the most important issues that China's new leaders emphasized after they took power at the Party's 18th National Congress in November, said Zhu Lijia, a professor on government administration at the Chinese Academy of Governance.
The long-existing phenomena of officials' bureaucracy, extravagance and formalism have affected the image of authorities and undermined the ruling basis of the Party, he said.
The central government is likely to put forward more concrete measures in the following months to supervise officials' power and keep clean governance, Zhu said.
Authorities will pay closer attention to online public opinion and more officials might be investigated due to whistle-blowing, he said.
Mao Shoulong, a professor of public administration research at Renmin University of China, said that the government should make the expenses more transparent to the people.
"The people should know exactly how each penny of public funds is spent," he said, adding that government information disclosure in many places could not meet the demand of the public.