Experts cautious over Jolie's surgery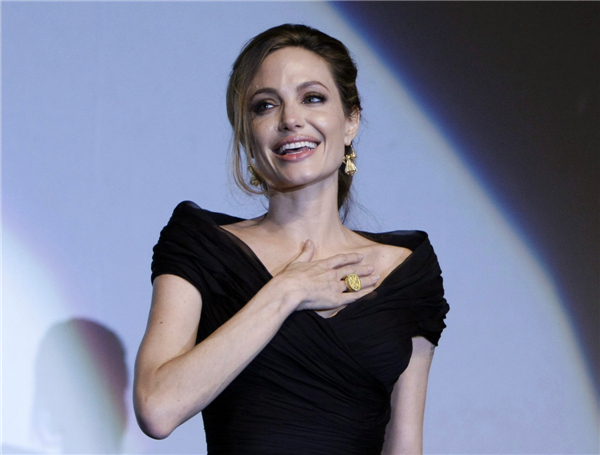 Angelina Jolie
Senior Chinese cancer specialists expressed caution about Hollywood star Angelina Jolie's decision to undergo a preemptive double mastectomy to reduce her risk of breast cancer, stressing the importance of a comprehensive risk analysis, including genetic screening.
In an editorial for the New York Times that went viral, Jolie wrote that the surgery reduced her chances of contracting the disease from 87 percent to 5 percent.
Qiao Youlin, vice-chairman of the expert's board for early detection and treatment of cancer at the Chinese National Health and Family Planning Commission, said Jolie must have faced a very high and definite risk of breast cancer, otherwise the mastectomy would not have been performed.
For relatively well-known types of the disease, like breast and cervical cancer, risk modeling that includes genetic and historical screening could reliably inform someone of the risk they are facing, Qiao said.
"That can be 70 percent accurate. But for the likes of pancreas cancer, there is so far no effective method available to show the potential risk," he noted.
Xu Binghe, deputy director of the internal medicine department of the Cancer Institute and Hospital of the Chinese Academy of Medical Sciences, said that a preventive mastectomy was not a regular treatment for breast cancer.
"Of course early detection and treatment in the case of breast cancer makes a great differences to patients," he noted, urging women, particularly those who have a family member with the disease, to undergo a yearly mammogram.
Wang Xiang, director of the institute's breast cancer surgery department, said Jolie's decision required "great courage", but explained that the surgery would not be widely implemented in the US, let alone China.
"So far we don't have preventive mastectomies on the mainland at all," he said.
Wang said that one cannot breastfeed babies after the removal of the mammary gland, and that genetic screening for cancer is still at the experimental stage in China.
At the moment, in Beijing, "no more than two hospitals" have the capacity for the screening, he said.
For women at high risk of breast cancer, regular checks are enough to ensure early treatment, Wang said, adding that there is a limited capacity for breast reconstruction on the mainland.
Jolie underwent a breast reconstruction after the double mastectomy.
Mu Dali, a veteran plastic surgeon with the Plastic Surgery Hospital under the Chinese Academy of Medical Sciences and Peking Union Medical College, said breast reconstructions are technically demanding.
Each year, the hospital performs around 60 such operations, which cost 30,000 to 40,000 yuan ($6,500).
China performed quite a low number of breast reconstructions, Mu said, compared with 50,000 to 60,000 surgeries a year in the US.
Unlike in China, the surgery is common abroad and is covered by medical insurance, experts said.
China currently has about 470,000 breast cancer patients on the mainland, only 20 percent of whom were diagnosed at an early stage. The figure in the US is 80 percent.
Breast cancer might become the most prevalent cancer among Chinese women in the next two decades, senior experts warned.
Notably, the average age of Chinese patients is about 49, a decade younger than their Western counterparts.
Zheng Xin contributed to the story