Myanmar welcomes more China exchanges
Visiting Myanmar delegates expressed their willingness to have more exchanges with China to advance mutual understanding and trust during a one-day conference in the southwestern city of Kunming on Tuesday.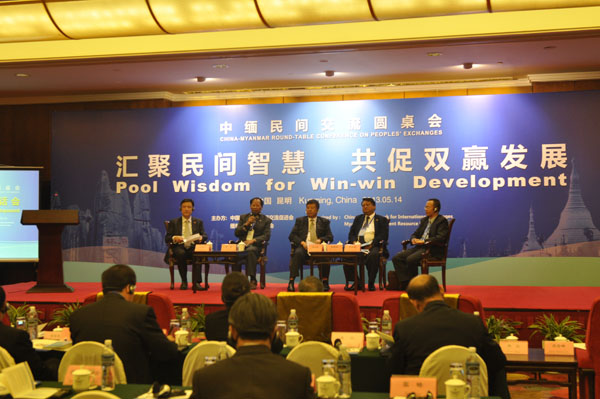 Chinese and Myanmar delegates hold heated exchanges during a panel discussion of Dialogue on Win-Win Development of China-Myanmar Round-Table on People's Exchanges in Kunming, Southwest China's Yunnan province, on May 14, 2013. [Photo by Yang Jie/chinadaily.com.cn]
Attracting more than 60 representatives from China and Myanmar, the China-Myanmar Round-Table on People's Exchanges aims to pool the wisdom of both peoples for mutual beneficial development.
"The friendship between Myanmar and China dates far back, and the development of the friendship between the two peoples and the NGOs will lay a solid foundation for more bilateral exchanges in other areas," said Tha Hla Shwe, president of the Red Cross Society of Myanmar.
"The relationship between Myanmar and China can be likened to that between fish and water: one can stay well only when the other is also well," said Win Tin, chief editor of Myanmar newspaper Union Daily at a panel discussion where Chinese journalists were welcomed to Myanmar.
"The Chinese economy is developing fast compared to that of the US and EU, and Myanmar is willing to receive investment from China, which creates jobs in Myanmar," said Sit Aye, chief legal advisor to the President's Office of Myanmar, at a panel discussion.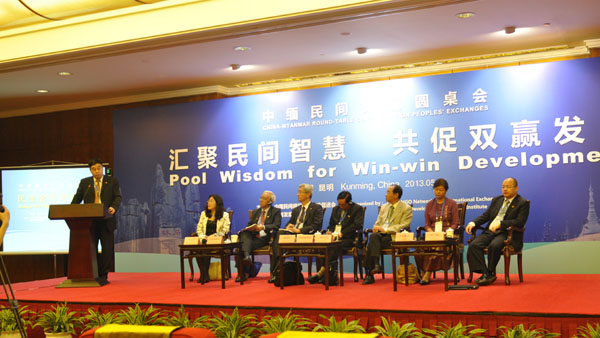 Chinese and Myanmar delegates hold heated exchanges during a panel discussion of Dialogue on People-to-People Cooperation of China-Myanmar Round-Table on People's Exchanges in Kunming, Southwest China's Yunnan province, on May 14, 2013. [Photo by Yang Jie/chinadaily.com.cn]