China-Myanmar exchange in SW China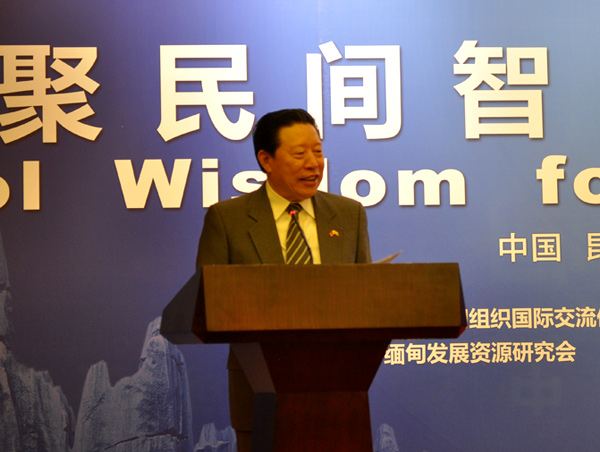 Sun Jiazheng, president of the China NGO Network for International Exchanges, delivers a speech at the China-Myanmar Roundtable Conference on People Exchanges inKunming, Southwest China'sYunnanprovince, on May 14, 2013. [Photo provided by Li Xiaohua / China.org.cn]
More than 60 representatives from China and Myanmar attended an event on Tuesday in Kunming, Southwest China's Yunnan province.
China-Myanmar Round-Table on People's Exchanges, focusing on "wisdom for win-win development," is co-hosted by the China NGO Network for International Exchanges (CNIE) and the Myanmar Development Resource Institute (MDRI).
China and Myanmar are friendly neighbors, and the friendship between the peoples and their exchanges are the foundation for bilateral ties, so it is important for the two nations to enrich cultural and people exchanges, said Sun Jiazheng, president of CNIE, who has been to Myanmar twice.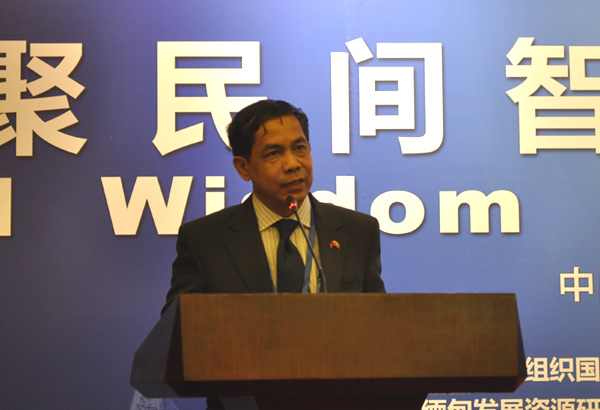 Ko Ko Hlaing, chief political advisor at theMyanmarPresident's Office, delivers a speech at the China-Myanmar Roundtable Conference on People Exchanges inKunming, Southwest China'sYunnanprovince, on May 14, 2013. [Photo provided by Li Xiaohua / China.org.cn]
China gives great importance to its relations with Myanmar, and the two nations should steer bilateral ties to develop and shouldn't be deterred by foreign disturbances and obstacles, said Sun, who is also vice-chairman of the 11th National Committee of the Chinese People's Political Consultative Conference (CPPCC).
The traditional friendship between Myanmar and China is indestructible, stressed Ko Ko Hlaing, chief political advisor at the Myanmar President's Office.
The think tanks and NGOs in Myanmar are willing to make contributions to further the friendship and pragmatic cooperation between Myanmar and China, he adding.