Yangtze Bridge strike ship sinks, 18 rescued
Eighteen crew members have been rescued after a cargo ship carrying limestone hit the Nanjing Yangtze River Bridge and sank, China News Service reported on Monday.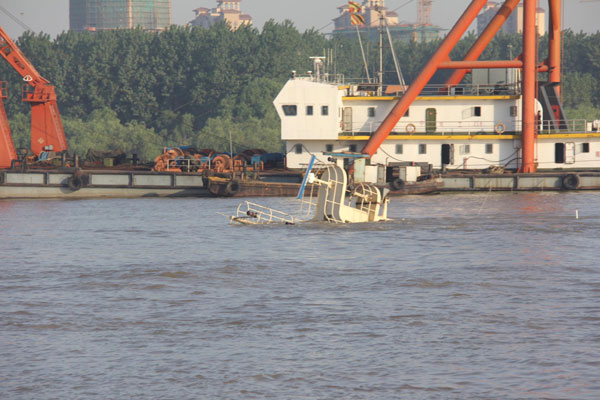 A cargo ship sinks after hitting with Nanjing Yangtze River Bridge in Nanjing, Jiangsu province at 4:20 am on May 12. [Photo/Xinhua]
The vessel, Xinchuan 8 was transporting 12,500 tons of limestone from Tongling in Anhui to Luoyuan in coastal Fujian province, when it struck one of piers of the bridge at around 4:20 am on May 12, according to sources with Nanjing Maritime Bureau.
The Nanjing municipal maritime relief center sent a rescue team to the scene, and all 18 crew members were taken to safety by 4:55 am.
The vessel, owned by Rushan Xinchuan Shipping and Transportation Co Ltd, was damaged in the collision before water began to leak in. It sank at around 5 am some 3.5 km away from the bridge.
Maritime authorities in Nanjing are organizing the salvage of the ship. An investigation into the cause of the accident is under way.
After the accident, a rumor swirled online that it was carrying a full capacity of crude oil and had polluted the water in Yizheng city, Jiangsu province, triggering panic buying of water.
The city government issued a notice saying the ship had spilled a small amount of fuel oil, the authorities have taken measures to deal with it, and tap water remains normal without any signs of oil pollution.