Oversight of foreign experts to improve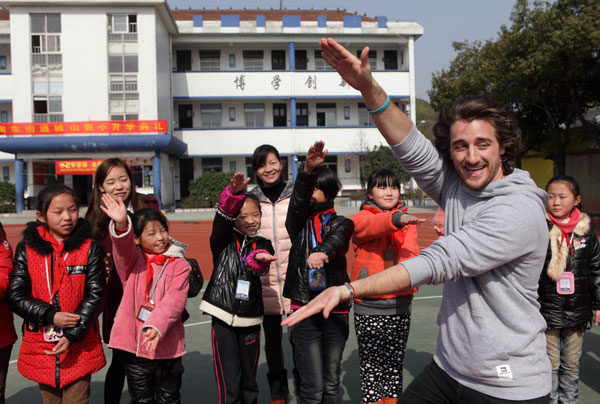 A foreign teacher at Hailiang International School in Zhuji, Zhejiang province, interacts with pupils from a primary school for migrant workers in the city's Taozhu street on March 4. Photo by Luo Shanxin / for China Daily
Demand increases for teachers from abroad as more seek to learn English
A set of measures will be further strengthened to better manage foreign experts in China, according to the State Administration of Foreign Experts Affairs.
"Of the 540,000 foreign experts coming to China every year, the vast majority are high-quality talents with outstanding work records," Xia Bing, director of the administration's cultural and educational experts department, said in an exclusive interview with China Daily.
He said foreign experts of many different occupations have made an irreplaceable contribution to the country's decades of rapid economic growth and technological development.
"About a third are working in cultural and educational areas," Xia said. "It is my understanding that some who work as language teachers have donated their own funds to help poor students in remote areas in China, and some outstanding foreign teachers have even won the Chinese Government Friendship Award."
Xia said the administration is also dedicated to perfecting the process of recruiting foreign talents, such as making it more convenient for foreigners to enter and leave the country, bringing them into the social security insurance system, and providing more channels for them to make their voice heard and thus better blend in with society.
As for recent reports of foreigners with criminal backgrounds found working in China, Xia said they are just "black sheep".
"The overwhelming majority of foreign experts are outstanding," he said, adding that the administration will further strengthen its management to prevent such cases in the future.
"We will also ask foreigners to sign a declaration that they do not have a criminal record, with a promise to strictly obey laws in China, before issuing them the work permit required for a working visa."
Xia said the administration will also require educational institutions and intermediary agencies that are qualified to hire foreigners to set up special posts to verify the applicants' curriculum vitae, making full use of the Internet and information provided by child protection organizations in the applicants' countries of origin.
A week's worth of pre-job training for foreign teachers should also be enforced, including an introduction to laws in China, how to respond to emergencies and protect their rights, as well as characteristics of Chinese students, he said.
"On top of punishment, if any malpractice or illegal behavior is found, the provincial-level foreign experts affairs administrations should report the case quickly to the public security, education or other related departments," he said.