Taiwan demands Filipino apology for fisherman's death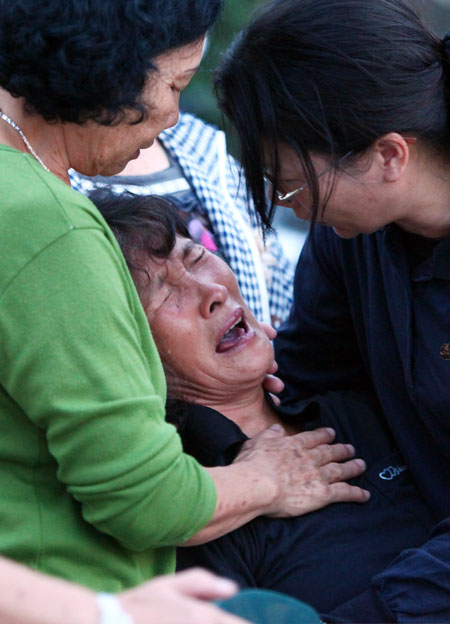 The wife of Hung Shih-cheng reacts on Saturday after the Philippine Coast Guard fired at Hung's boat and killed Hung. Agence France-Presse
Hung Shih-cheng, the skipper of the 15-ton, 13-meter Guang Ta Hsin 28, was killed during the incident, which also left the boat riddled with more than 50 bullet holes. Hung's body was taken back to Taiwan on Saturday morning.
His death highlights the tension between Taiwan and the Philippines. Recently, people from both sides have been accused of hacking each other's government websites.
Manila admitted on Friday that its coast guard had fired on the boat from Taiwan, but said the action took place inside its territorial waters. "If somebody died, they deserve our sympathy but not an apology," Philippine Coast Guard spokesman Armand Balilo said.
Gong Yingchun, an expert on international law at China Foreign Affairs University, said competitive law enforcement in this area will lead to more tension, but "based on international law, the use of weapons in such scenarios is only applicable to stop vessels for security checks when forced to, not to kill people".
"Manila's brutal and excessive actions go beyond the scope of law enforcement and they therefore have to be held responsible for the damage caused," she said.
Fired on without warning
Hung Shih-cheng's son, who was with his father and two other sailors on the boat when the shooting took place, insisted they did not cross into Philippine waters and that the Philippine vessel opened fire without warning.
According to Taiwan authorities, the shooting happened 164 nautical miles southeast of the southernmost tip of Taiwan. Manila claimed that the location is in its "exclusive economic zone". But Taipei said the site is in an overlapping area of the two sides' exclusive economic zones and no bilateral fishing arrangement has been reached.
China Daily