Mao photograph sells for $55,300 at Beijing auction
A photo of Mao Zedong relaxing in a wicker chair against a scenic backdrop of Lushan Mountain has fetched 340,000 yuan ($55,300) at auction, 10 times the pre-sale estimate.
The photo, titled "Chairman Mao, the Brightest Sun in the Heart of World's People" was taken in 1961 by "Li Jin", a pen name used by his wife Jiang Qing for photos she took during the "cultural revolution" (1966-76).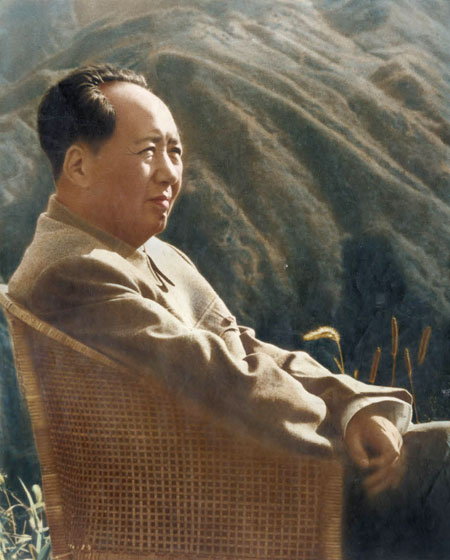 A photo of Chairman Mao Zedong, taken by his wife Jiang Qing. It fetched 340,000 yuan ($55,300) at an auction in Beijing on Friday, 10 times the estimated price. Provided to China Daily
There was a sudden rise in tension when the photo entered the salesroom at Huachen Auctions in Beijing on Friday, with an estimate between 30,000 and 50,000 yuan. Bidding started at 22,000 yuan, the price of 100,000 yuan was soon passed, and then a white-hot race between two telephone bidders ensued.
Agents acting on behalf of the buyers spoke aloud to the auctioneer as the bidding intensified, when normally bidding cards are raised.
"The result came as a surprise," said Li Xin, the manager of Huachen's photography department.
"Photos taken by Jiang Qing rarely come onto the market, and this one is sizable, measuring 45.5 by 37 centimeters.
"The photo was highly sought-after, mainly because its photographer was such a unique figure. It clearly aroused huge interest.
"It also shows that 'red-classic' photos like this are becoming well recognized by the market. I saw many new faces in the salesroom," she said.
The auction house had offered a special "red classic" photography section to commemorate the 120th birthday of Mao, putting dozens of photos up for sale, including some by famous photographers including Wu Yinxian, Hou Bo and Qi Guanshan.
Most of the photos showed the late leader inspecting the countryside, meeting foreigners and attending Party conferences.
Mao was worshipped as a symbol of national power during the period between the founding of New China in 1949 and the end of "cultural revolution" (1966-76).
He appeared center stage in many artworks and photos, and many of the images were taken by the best photographers, using the very latest technologies of the time.
Friday's $55,300 photo by Jiang was taken in black and white and later hand-colored, because color film was not widely used then.
It also highlighted Jiang's favoring of backlighting, a significant influence on Chinese photography during the period.
The past five years have witnessed a boom in demand for photography, especially "red classic" photos that recorded New China's rise, development and reform.
"Our first photo auction in 2006 achieved sales of 3 million to 5 million yuan.
"Last year, two photo auctions exceeded 13 million yuan in sales, a 20 percent rise on the previous year," Li said.
She added there is huge interest from Chinese collectors, both at home and from overseas, as soon as old photos about China appear on the market.
There has been growth too in bidding from public museums and libraries hoping to enrich their collections.