Marauding Siberian tigers kill livestock
Herders in Hunchun, a small city in Northeast China's Jilin province, fear nothing more than Siberian tigers.
Wang Zengxiang, 50, a herdsman in Hunchun, runs a ranch at the foot of a mountain where the tigers and other wild animals live.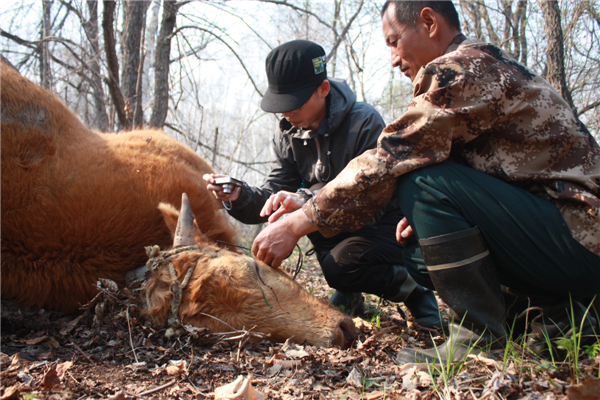 Wang Zengxiang, a herdsman in Hunchun, Jilin province, and an official from the Wildlife Conservation Society check the bite marks on a cow that was killed by Siberian tigers on Monday. Yang Jun / for China Daily
On two consecutive days, on Sunday and then Monday morning, he lost cattle. He suspected the big cats had killed the two cows.
Wang's suspicions were confirmed by a local wildlife official.
Yang Jun, an official of the Hunchun Forestry Bureau, concluded from the bite marks on the carcasses and footprints at the ranch that tigers living on the mountain had killed the cattle.
The human-wildlife conflict remains a problem in Siberian tiger habitats as the local government has expanded its wildlife protection programs in the past decade.
In the past two years, there have been 589 cases of wild animals, such as tigers and bears, attacking livestock or destroyed crops.
Since May 2, Yang has received four reports of tigers attacking livestock.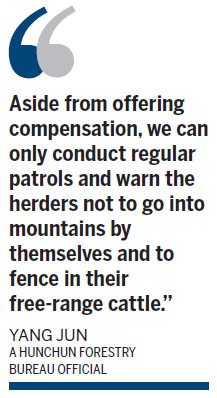 "What we can do is very limited," he said. "Aside from offering compensation, we can only conduct regular patrols and warn the herders not to go into mountains by themselves and to fence in their free-range cattle."
Last year, the Hunchun forestry bureau paid residents 3.66 million yuan ($588,900) in compensation for losses from wild animal attacks.
But the compensation system remains problematic.
Wang lost seven heads of cattle last year and two this year, all from tiger attacks. He said each of them would have sold for 3,000 to 4,000 yuan.
When Wang filed for compensation with the local government, he was told it would be paid at the end of the year and only if he could back up his claim with the carcasses. He could not prove some of the cases because no remains had been left. Consequentially, Wang said, he lost far more than he received in compensation.
Fan Zhiyong, an expert with the World Wildlife Fund, said a more reasonable system of claim evaluation and compensation needs to be worked out to solve the problem.
Jilin's compensation guidelines for losses from human-wildlife conflicts, enacted in 2007, do not cover all the damage caused by wild animals.
Fan said herders should gradually switch from free-range to captive livestock to prevent tiger attacks.
But, "If tigers don't have enough prey, they will hunt domesticated livestock," he added.
Liu Ce contributed to this story.