Award-winning teacher showcases Chinese educational innovation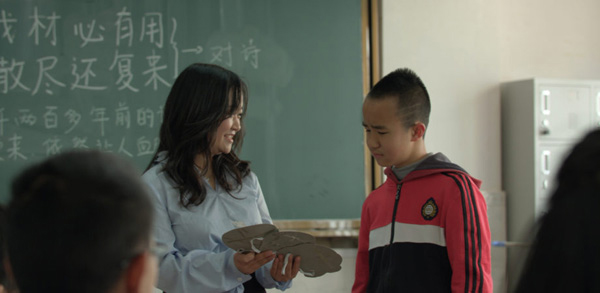 Yang boya with her students in a class. [File photo from web]
After being named one of the top 10 best teachers in the world by the Global Teacher Prize, Yang Boya, a mental health educator from Yunnan province, has successfully attracted global attention to China's education innovation. Yang is using her platform to showcase the country's rising influence on international education trends.
Yang has set up a center where students – especially left-behind children – can seek professional guidance from psychologists. She is also the first Chinese teacher to earn a spot on the top 10 list of candidates for the Global Teacher Prize. Coordinated by UK-based non-profit Varkey Foundation, the award aims to recognize the most qualified educators in the world. It received 20,000 applications from 179 countries in 2017.
"Being nominated as a top candidate for the prize, I have earned a chance to communicate with my international counterparts, as well as advocate for my Chinese colleagues. I think the international education arena needs more voices from China," Yang told the People's Daily Online during an interview.
Innovation to change the conventional education landscape
As China traditionally prioritizes knowledge and learning, Chinese families invest a lot in their children's education. According to BBC statistics, per capita annual disposable income in China rose by 63.3 percent in the five years prior to 2012, yet consumer expenditure on education rose by almost 94 percent in that same period.
"In China, we have an old saying: The study of books outpaces all other pursuits. My parents have spent a lot on my education, hiring tutors and sending me to study groups. Sometimes I feel like I am going to be suffocated by the pressure, but I cannot tell them how I feel as it may disappoint them," said Chen Lin, a Beijing-based high school student.
"Chinese parents usually have high expectations for their children's academic performance, while the kids' psychological health is frequently neglected. Many Chinese teenagers suffer from pressure and confusion, especially left-behind children," said Yang.
According to a report released in 2015 by Chapin Hall at the University of Chicago, over 21 percent of Chinese children aged 10 to 15 feel depressed more than twice a week, while 20 percent have expressed discontent with their lives and 22 percent have expressed a lack of confidence in their futures. Children living in rural areas are plagued by even more mental problems than their peers living in cities.
A paucity of professional help and mental healthcare has led to severe social issues, including suicide and school violence among teenagers. In 2015, four left-behind children in Bijie, Guizhou province committed suicide partly due to the absence of their parents.
The oldest was 13, while the youngest was just 5. What's more, according to a 2015 Xinhua survey, over 70 percent of respondents said they had witnessed incidents of school violence. In order to tackle these problems, Yang has been conducting research on children's mental health education, especially the emotional deprivation suffered by left-behind children in rural areas.
"I have made several breakthroughs in promoting mental health education. For instance, I introduced drama, theater and music into my teaching methods, which has helped children to improve their mental health and confidence," said Yang. Notably, Yang also includes parents in her education philosophy, stressing that parental figures are crucial to improving children's mental health.
"Chinese parents are willing to put great effort into improving their children's grades, but many hardly spend any time with their kids. Even if they wanted to communicate with teenagers, their lack of professional knowledge and communication skills makes it hard to construct a successful conversation," Yang explained.
Thanks to Yang's innovation, more and more educators and parents in China have realized the importance of children's inner worlds. Meanwhile, society has begun attaching more importance to teenagers' mental health and mental health education.
"Recognizing that a well-rounded education includes psychological support, Yang has demonstrated through her family counseling project that she thinks beyond the walls of the traditional classroom," said Keren Wong, co-founder of Bridging Education and Mobility, a Beijing-based educational organization. Wong added that Yang's achievements have shown the world that China is innovative when it comes to education.
"China's voice"
"Being a candidate for the award has allowed me to communicate with educators from all over the world, but I still feel pity, as I see hardly any Chinese teachers joining this international event," said Yang.
According to Yang, the world has shown great interest in China's education landscape. Chinese students' excellent academic performance and the respect teachers are shown in Chinese society have intrigued educators around the world. Nevertheless, there has been minimal communication between these educators and their Chinese counterparts.
"Though equipped with rich knowledge and teaching skills, Chinese teachers are not as confident as their foreign counterparts, and are not good at self-promotion," Yang opined.
Echoing Yang, Wong suggested that more Chinese voices should be heard in the arena of international education.
"By joining more international events like the Global Teacher Prize, [Chinese educators] can demonstrate how the Chinese education system overcomes unique challenges through innovation – for instance, expanding quality education for the country's very large rural population, as well as gaining a better understanding of how to prepare students to face the world," said Wong.