Rainstorms hammer southern part of China
Authorities warn residents to be prepared for more bad weather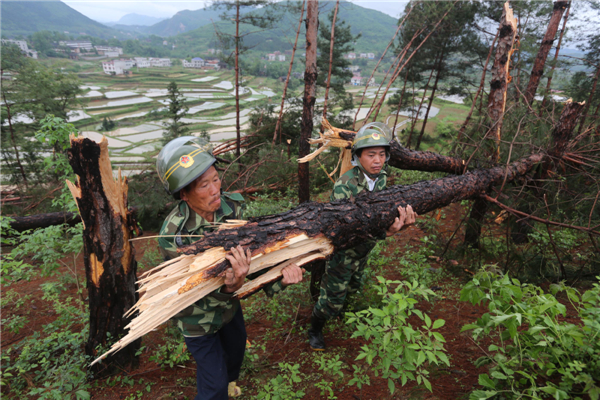 Two government workers in Xinhua county, Hunan province, remove tree trunks on Wednesday that were broken by rainstorms. Guo Guoquan / for China Daily
Rainstorms have pounded most parts of central and southern China since Monday, flooding streets and claiming dozens of lives.
In Xiangtan, Hunan province, three workers were trapped in a drain and died during a downpour on Wednesday, according to Wu Yuhang, a spokesman for the city government.
The three deaths raised the number of deaths from the storm in the province to at least 10.
Others provinces, including Jiangxi, Guangdong and Guizhou and the Guangxi Zhuang autonomous region, have also been hit by heavy rain since Tuesday, according to the Ministry of Civil Affairs.
The National Meteorological Center issued a blue alert on Thursday, predicting more heavy rain for Friday in the central and southern provinces and regions.
Up to 140 millimeters of rain is expected before Friday, the center said.
The Chinese meteorological authority uses a four-tier color-coded weather warning system, with red being the most severe, followed by orange, yellow and blue.
The center urged authorities to prepare for the coming heavy rains - checking dangerous areas for possible secondary disasters such as landslides, cutting off outdoor electricity and suspending outdoor activities.
Xie Yingxia, vice-president of the China Academy of Urban Planning and Design's Institute of Urban Water and Engineering, warned that the current drainage system cannot keep pace with the rapid urban construction, causing potentially fatal flooding.
The death of the three workers in Xiangtan comes just weeks after Yang Lijun, a 21-year-old in Changsha, capital of Hunan, fell into an uncovered drainage hole during a heavy rainstorm. She has been missing since March 22.
The urban management bureau in Changsha said about 44 sewage covers were carried away in the flooding on Wednesday, posing a threat to people's lives, and all were replaced on Thursday.
Zhou Gang, director of the urban management bureau in Changsha's Tianxin district, said protective screening was installed in the sewage system to prevent people from falling in.
According to Hunan's civil affairs department, the heavy rain had caused a direct economic loss of 200 million yuan ($32.6 million) and damaged more than 27,200 hectares of farmland, affecting 420,000 people as of Thursday.
In Zhuhai, Guangdong province, Lyu Mengjie, a 5-year-old girl, was washed into a drainage channel by floodwaters due to the downpours on Wednesday. She was confirmed dead later that day.
Guangdong's civil affairs department said that as of Thursday, rainstorms had claimed one life and affected at least 27,000 people. More than 1,300 people had to be evacuated, and direct economic losses came to more than 11 million yuan.
While southern and central regions were hit by rainstorms, the National Meteorological Center weather report said most parts of North China, such as the Inner Mongolia autonomous region, are expected to be get light rain from Thursday to Sunday. Heavy rain in Heilongjiang and Jilin provinces will cool the heat of the past week.
Lushan, Sichuan province, which was struck by a magnitude-7 earthquake on April 20, will get light rainshowers on Thursday and be overcast on Friday and Saturday, according to the weather report.