Student makes 2nd stem cell donation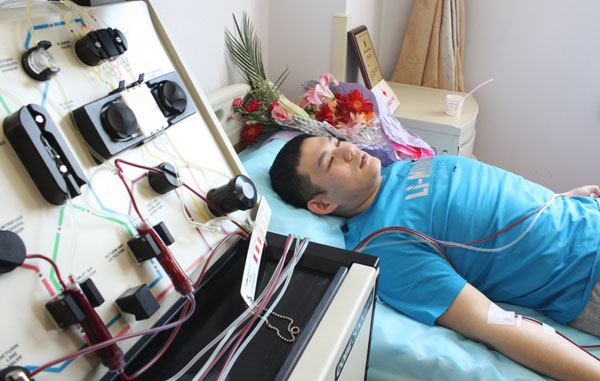 Wang Yuanxiang in Changchun, Jilin province, donates blood stem cells for a 37-year-old leukemia patient on Monday. Wang, a 24-year-old student at the Jilin Institute of Physical Education, has been a regular blood donor for six years. [Photo by Sheng Xuesong/For China Daily]
Wang Yuanxiang donated his blood stem cells for a leukemia patient about 1,000 km away on Monday.
It is his second donation in three years to the same patient.
Wang, a 24-year-old college student at Jilin Institute of Physical Education in Northeast China's Jilin province, has been a regular blood donor for six years.
Encouraged by a cousin who is a doctor, Wang had made a habit of donating blood once every six months.
It was his donations of blood that has led to Wang's contact with the China Marrow Donor Program and later his donation of the life-giving cells.
"I was on a blood collection bus when a nurse asked me whether I want to be a marrow donor," Wang said.
"It was 2009, and I had seen basketball star Yao Ming being a marrow donor on TV. I signed up for the program because I believe either donation could help someone."
Two years later, Wang was told he was a match for a man dying of leukemia.
"When I informed (Wang) and asked whether he still wanted to donate, he said, 'I keep my word,' " said Yu Li, a staff member at the Jilin branch of the China Marrow Donor Program, which is under the Red Cross Society of China.
Yu had also asked the young man, then a 22-year-old junior, to inform his family and university about his donation. It was while school was in session, and once the matching process started, the recipient will shoulder all the costs involved, which could be massive and yet in vain if the donor gives up halfway through the process.
But Wang did not tell anyone, a strategy he abandoned for his second donation.
It took him 10 days away from school to complete the donation process, which included the physical examination, hospital admission and the collection of the stem cells.
When he returned from the hospital, however, Wang was nearly punished by the school for his absence from class, until a thank-you letter from the recipient came to his rescue and helped him explain everything.