Xi calls for Middle East talks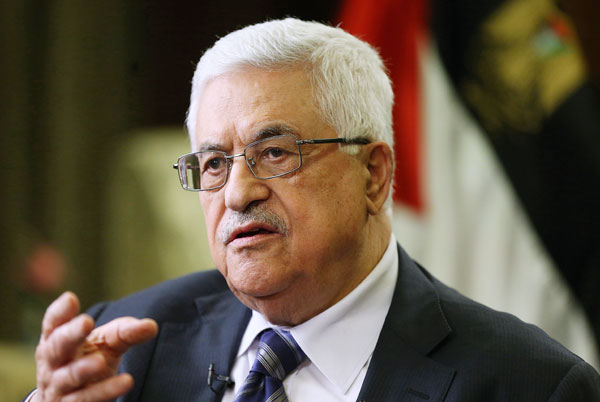 Palestinian President Mahmoud Abbas spoke at a joint news conference at the Diaoyutai State Guesthouse in Beijing on Monday night. Xu Jingxing / China Daily
Bigger role for China
China's special envoy for the Middle East, Wu Sike, told reporters earlier that the fact that Israeli and Palestinian leaders were invited to China for a visit not long after the new Chinese government was formed indicates the importance China's new leadership attaches to Middle East issues.
Beijing raised such a proposition for the first time to seek a bigger role in promoting peace in the Middle East, said Li Shaoxian, an expert of Middle East studies at China Institutes of Contemporary Relations. China aims to solidify international consensus, including that Israeli-Palestinian peace remains the core issue of the Middle East, and to address urgent issues such as Israel halting settlement construction, he said.
US-sponsored talks between Israel and the Palestinians broke down in 2010 over the issue of Jewish settlements. Palestinians say peace talks require a halt to settlement construction in the West Bank and East Jerusalem, but Israel rejects the demands and says peace talks should resume without preconditions.
"The US still enjoys an influential say during the process and China's role can hardly match that of Washington in the region in the near future, but the international community, including China, should all make their contributions to promote the process," Li added.
Dual visits 'unprecedented'
The almost simultaneous visits by Abbas and Netanyahu are "unprecedented" in Chinese history, which shows the two countries' good relations with China and the great importance they attach to China's role in the Middle East peace process, said An Huihou, former Chinese ambassador to Egypt, Tunisia, Lebanon and Algeria. The propositions made by the new Chinese leadership will further boost ongoing international efforts to restart the talks and strengthen the ever-improving ties between China and Middle East countries, he said.
After the meeting, the two sides signed cooperation agreements in economic technical cooperation and cultural exchanges.
China, which has long provided assistance to Palestine, hopes to ease the country's financial difficulties and improve its people's living conditions, An said.
The Palestinian National Authority has a budget deficit of about $1 billion due to the stoppage of international donations and funds as well as Israel's refusal to pay the tax revenue dues, which represent one-third of the PNA budget, according to Xinhua.
Related reading:
Goals for Abbas's trip to China have been met
China visits by Abbas, Netanyahu 'unprecedented'