'Seventh ring road': One step closer to Beijing, Hebei integration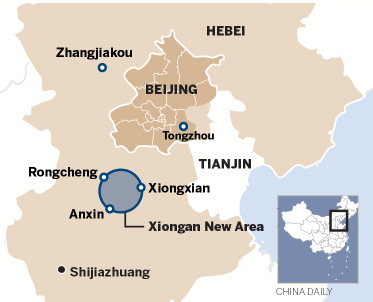 A map showing Beijing, Tianjin and Hebei province. [Photo/China Daily]
A highway that is expected to further integrate Beijing and neighboring Hebei province is close to completion, China's top economic planner said.
According to the National Development and Reform Commission, the feasibility study of a section of the highway has been approved, which means the road is one step closer to completion.
The ring-shaped road, with a total length of 940 kilometers, will connect suburban Beijing with cities in Hebei province, including Zhangjiakou, a co-host city of the 2022 Winter Olympic Games.
Experts say the road will promote the joint development of Beijing, Tianjin – a port city close to Beijing – and Hebei province, and will also help ease traffic congestion and improve air quality of China's capital city.
Nicknamed the "seventh ring road" after the six ring roads that already encircle Beijing, the highway is to connect the new airport of Beijing which is currently under construction with the Beijing Capital International Airport.
This is a public-private partnership (PPP) project with a total investment of 12.18 billion yuan ($1.77 billion).