Dancer Yan He: Making her way outside the system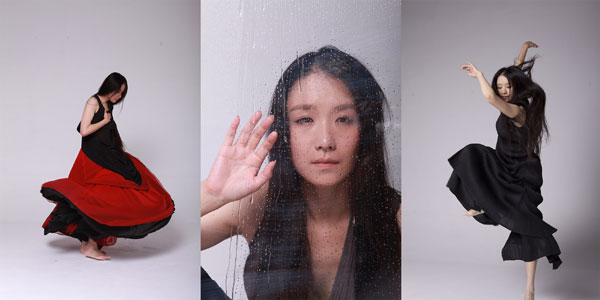 Stage photo of Yan He in Whispering of Water. [Provided to chinadaily.com.cn]
A lithe and fresh-faced dancer - costumed in black robes with red lining, loose hair almost down to her waist - pivoted continuously on the stage for 10 minutes in water dripping from chunks of ice overhead and within a beam of light seemingly to be engulfed by the endless darkness; "seismic waves" from the dark heralded the devastation of the universe.
The scene, played out this spring at China's National Center for the Performing Arts (NCPA), is from the modern dance Whispering of Water, directed, choreographed and danced by an artist named Yan He, who was invited to perform and sponsored by the NCPA this year. Last year she also performed there, at her own expense.
"I am an outsider from the system," Yan said, referring to her lack of affiliation with any organization, company, or governmental department.
Working for nobody other than herself, the young Chinese artist made the risky transition, at least in the eyes of her artist friends, to solely perform as an independent dancer in 2007.
"It's very hard to be nurtured into a fully-fledged dancer; the appearance fees for a prominent dancer cannot even compare with those for an obscure pop singer," said Mu Yu, an associate professor with the Beijing Dance Academy in a media interview this year. "Many outstanding graduates from famed academies end up only making it to the reserve force, let alone the independent dancers."
Yan has few classmates who remain in this line of work.
"Most of them have switched to other sectors, like financial management or being a mum," Yan laughed.
"Some girls study dancing because they want to get a decent job, to marry a rich husband - students from arts schools have the edge - or to win a gold award to get promotions," Yan said from her own experience of being a guest teacher in a number of schools in China.
"But I simply enjoy dancing. I feel I am living only while moving."
Two years ago Yan threw all her savings into her maiden production Whispering of Water.
Yan had neither production team nor promotion agency, with the exception of help from her friends and some interested journalists. She also had no financial support. Yan has two reasons for such a minimalist approach to fame-seeking.
"For one thing, I don't want my production to be affected by commercial concerns," she said. For another, she is, in her own words, "outside the system."
"In western countries, there are independent arts foundations to finance promising artists without any commercial interference; in China, dance is here to serve the country, but I want to express myself," said Yan.
Outgoing and professional, Yan established a liaison with the NCPA, considered the nation's top theatre, in 2012 with the assistance of her friends.
"They allowed my show in there, but I had to pay the site fees myself," said Yan.
To her surprise, the presentation earned her approval from both industry tastemakers and the public after its premiere in June 2012, the latter in particular – yet all the income was offset by its running cost.
Though it could be called a success, it became clear to Yan that if she was to continue, she would need some formal financing.
Yan picks up paid work at festivals, as a guest performer, and as a choreographer in order to subsidize her own productions.
Yan had studied and worked within the dance system for more than 10 years, though it did not always seem like a system one could work within. Yan first became interested in dance out of adolescent rebellion. Born into a military family in the Ningde city of southeast China's Fujian province in 1981, Yan always dreamed escaping from home. After attending a dance audition from Xiamen Drama and Dance School — the predecessor of Xiamen Art School located in Xiamen city in Fujian — with little more than courage to boost the hopes of an untrained dance novice - she was accepted.
Despite her lack of experience in the basics and mockery from teachers due to her less-than-beautiful appearance, Yan graduated with the highest honors in 1999.
In 2004, Yan completed her four-year studies at Beijing Dance Academy with a Bachelor's degree in folk dance after finishing her thesis on the inheritance and development of traditions.
Yan believes she holds traditional views of life - it's not just something in her academic work. "I don't know big brands or care about houses but I am interested in copying Buddhist scriptures or reading Laozi (classic Chinese philosophical writing) in my spare time."
After her graduation in 2004, Yan was admitted to the leading China Oriental Performing Arts Group and soon became its leading actress.
In 2005, she was handpicked by Yang Liping, the icon of China's folk dances to role-play Yang in the Dynamic Yunnan, a highly sought-after show, starring Yang.
Two years' worth of imitating Yang's style — with Yang as her mentor — made the audience believe Yan was Yang, but it was never Yan's aspiration to be anything but herself.
In 2007, she left the company and decided to produce works for herself.
Yan has earned 40 percent of the ticket revenue after being invited by the NCPA to stage Whispering of Water this year; moreover, other opportunities to appear on the stage are opening up for her.
Though times have been tough, the future is looking bright for Yan, who says she is going to "stick with it," no matter what.
Contact the writer at donglin@chinadaily.com.cn