Classes resume in quake-hit zone
Students prepare for important exams in improvised schoolrooms
Luo Xinying does not care about sharing a textbook with his classmate now. He feels relieved to be back at school. The 15-year-old is one of thousands of students in the quake zone who will face the high school entrance exam from June 12 to 14.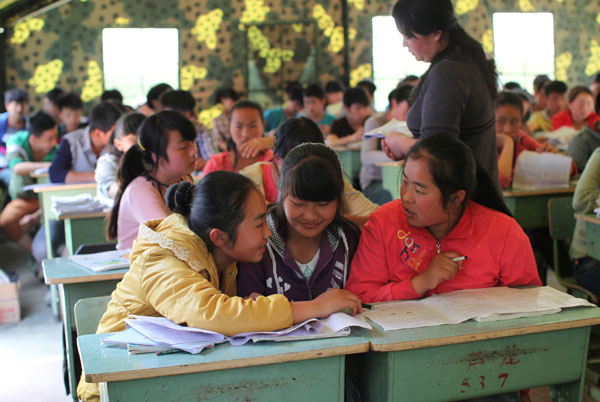 Ninth-grade students of Longmen Middle School in a makeshift classroom in Lushan, Sichuan province, on Wednesday. WANG JING / CHINA DAILY
Along with Luo, nearly 80 students in their last year at Longmen Chenyang Hope School, the largest school in Longmen township, Lushan county, resumed classes on Wednesday morning in a tent normally used by the military.
Students elsewhere in the quake zone resumed classes on Tuesday. Priority is being placed on those facing college or high school entrance exams.

Some 186 senior students at Baoxing Middle School, the largest school in Baoxing county, one of the counties hardest hit by the quake, resumed classes on Wednesday.
Tianquan Middle School in another hard-hit county saw 953 senior students resume classes at Chengdu Normal University on Wednesday.
Hou Xiongfei, spokesman for the Sichuan provincial government, told a news conference on Wednesday that all students will return to school on Saturday.
A total of 355 schools in Ya'an city closed after the magnitude-7 quake struck on Saturday.
"I'm afraid that I am going to fail (in the high school entrance exam)," said Yuan Leiyi, 15, Luo's schoolmate, adding that she wanted to return to school and stay with friends.
"I cannot concentrate in class now. I am scared of aftershocks all the time," she said.
The first class at the Longmen school was English. Ma Xiaojuan, the 27-year-old teacher, explained points of grammar and read a text to students.
"A number of" means "several and many", Luo wrote in a textbook as an explanation for the phrase.
Ma said the students lack textbooks. She also fears that some students want to sneak into the school building to get their textbooks. "But it's too dangerous. The walls are cracked," the teacher said.
Ma lives next to the tented classroom in another tent with 13 other teachers. This tent also serves as a temporary teachers' office.
Zhu Jiang, a math teacher who was slightly injured in the quake, said: "Some students are still moody. Our top priority is to soothe them and make them comfortable."
During the quake, the school lost one student and two of its teachers were slightly injured.
The principal, surnamed Yue, said the school needs at least 30 textbooks and ink to print study material for students.
Related readings:
Live report: 7.0-magnitude quake hits Sichuan
Premier thanks nations for aid
Quake-hit region faces new threats
Expert calls for rational volunteering, donations
Condolences continue to flow in after earthquake
Life resumes in 'isolated island'
99% houses damaged by quake in township
Military helicopter delivers relief supplies