Survivors rally to help rescuers
By HUANG ZHILING in Lushan, Sichuan, and ZHENG XIN in Beijing | China Daily | Updated: 2013-04-23 02:01




Earthquake survivors in Sichuan are rallying to help others, with supplies of drinking water urgently needed.
Bai Huaping and Fu Mingquan, who ran a restaurant in Longmen township that was destroyed in Saturday's quake, have been providing boiled water at a health center with their remaining gas tanks for villagers and rescue teams.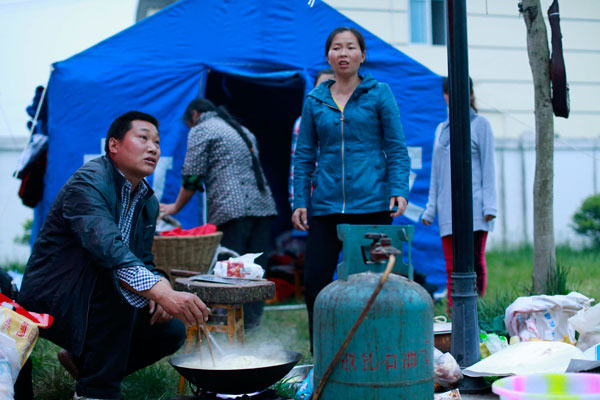 Bai Huaping (left) boils noodles for the rescue team. Feng Yongbin / China Daily
"As we used to run a restaurant, there are still some gas tanks in store, and a primary school had some water," 49-year-old Bai said.
"We boil the water day and night and it is still in urgent need. Now that we are running out of gas, we are collecting coal briquettes from neighbors for a constant supply."

Bai said he cannot stand the sight of people starving and going thirsty, especially in such conditions.
Deprived of electricity, water and gas, boiled water is now a luxury for survivors, but the lack of safe drinking water could result in post-disaster illnesses, including diarrhea and dysentery.
In addition to boiled water, the couple also provides free meals for villagers and rescue teams.
Fu, also 49, said she saw many soldiers munching dry instant noodles without boiling them, and one soldier fainted from hunger.
"It's heart-breaking to see this," she said. "You just can't help but lend a hand. I'm not highly educated, but I know people can help each other."
Related readings:
President Xi confident in recovery from quake 
Premier on site of earthquake devastation 
Commentary: Quake-hit China grows in pain 
China's Air Force starts first airdrop in quake zones 
Snapshots of rescue efforts in quake-hit region 
Nation works to restore post-quake order 
Experts assess quake damage to schools