Premier on site of earthquake devastation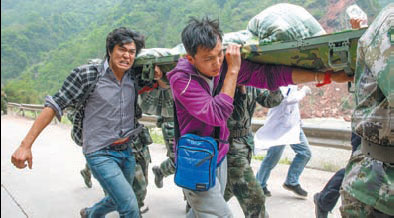 Volunteers Yang Chengcheng (left) and Xiao Long, from Southwest University for Nationalities in Chengdu, join soldiers to rush injured people to an aid center 10 kilometers away in Lushan, Sichuan province, on Sunday. Chen Cheng / Xinhua
A total of 188 people were dead and 11,460 were missing as of press time on Monday, two days after a powerful earthquake hit Ya'an city in Southwest China's Sichuan province, according to China Central Television.
The magnitude-7 earthquake hit the city at 8:02 am on Saturday.
China's Premier Li Keqiang climbed onto a heap of debris to view the disaster area after arriving in Lushan county, Sichuan province, where he expressed condolences to victims and survivors of the devastating earthquake.
"We should put saving people first because people's lives are more precious than anything else. We should use scientific means, including using life detectors, to rescue every person who might survive," Li told reporters at the epicenter in Lushan on Sunday morning.
Li flew to Lushan shortly after the earthquake struck and visited temporary settlements, hospitals and tents.
He was even leading a meeting in a tent when a magnitude-4 aftershock occurred.
Even though electricity supplies had not yet resumed, Li held a meeting illuminated by flashlights as he spread out a map and directed relief work.
"I have met many people affected by the disaster in Lushan, and I told them that the government will help you to rebuild a beautiful home," he said.
The premier visited patients at West China Hospital in Chengdu, capital of Sichuan, on Sunday. The hospital is treating many of the seriously injured.
"You do not have to worry about medical treatment fees. The government will take care of you," Li told 71-year-old Yang Shangming, while holding his hand and asking him about his injuries and treatment.
While visiting Zhang Ke, a seriously injured 8-year-old boy, Li leaned over and whispered: "Does it hurt? Don't be afraid. You will be fine."
Li also visited Yang Yujie, a 7-year-old boy whose mother and elder sister remained missing after their home was ruined in the quake. The boy's father was hurrying home from his job in another city.
"We should try our best to reduce the rate of disability and mortality," the premier told doctors and nurses in the hospital.
Ling Feng, head of neurosurgery at Beijing's Xuanwu Hospital, was on a business trip to Sichuan's Luzhou city on Saturday and volunteered to help at West China Hospital.
"Premier Li said the nation is grateful to medical experts for helping the injured, and he urged me to take care," he said.
Ling plans to go to disaster-hit areas to rescue the injured.
As of 6 pm on Sunday, West China Hospital had received and treated 213 quake victims.
Li urged local officials to check every house and make the utmost effort to save lives as long as there is one gleam of hope, deploy capable medical personnel to treat and cure the injured, and transfer seriously injured people quickly.
Responding to the call, 20 batches of soldiers conducted the check and set up temporary tents for affected people in open areas on Saturday night.
"The main task tonight is to check every household in remote areas and transfer people who are still in dilapidated houses and build temporary tents for them to protect them from the harm of aftershocks," Liu Jianping, a division chief with Chengdu military garrison, was quoted as saying by China Central Television.
Some survivors in the tents were listening to the latest news about the disaster.
"Is this your tent? Is it OK for you to sleep here tonight?" Li asked them.
"Aftershocks still continue so you cannot return home. Although the conditions here are not good, safety comes first," he said.
Jiang Xueqing contributed to this story.