Ethnic groups quick to join rescue efforts
Team of 180 travels 500 km to Longmen town to help villagers
At about 6 am on Monday, as a drizzle fell, Sitenpo started a new day by rushing to a tent near the Longmen town government to await a daily meeting following Saturday's earthquake.
The meeting involved leaders of rescue teams in the town, while Sitenpo's task was to keep residents in order, allocate supplies to villagers unable to come to the tent, and pitch more tents.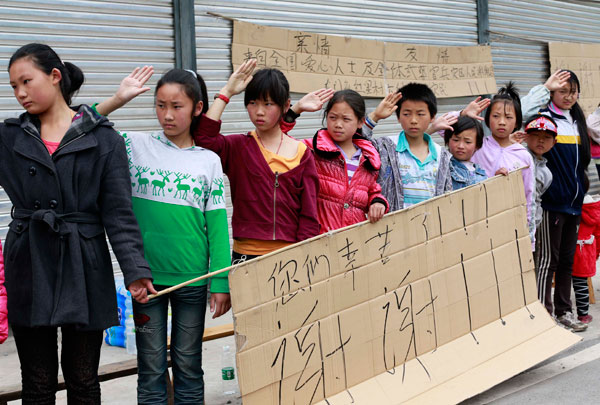 Students in Longmen town, Lushan county, welcome rescue vehicles on Monday. FENG YONGBIN / CHINA DAILY
Sitenpo, in his 40s, from Heishui county in the Aba Tibetan autonomous prefecture, Sichuan province, took his team of about 180 rescuers to the town, more than 500 km from his hometown, on Sunday morning after a five-hour drive.
More than 90 percent of the rescuers are from the Tibetan ethnic group and they decided to go to the disaster area without hesitation, according to Sitenpo, who added that 25 percent also took part in rescue work five years ago when a magnitude-8 quake hit Wenchuan county in the province, killing more than 69,000 people.

"We have experience, and it's our duty to help residents in dangerous conditions, no matter what ethnic group we come from," he said hoarsely.
Sitenpo had only slept for about three hours after the quake struck on Saturday and looked exhausted. But he told China Daily the rescue work is his priority.
"I cannot sleep because new tasks are arranged at any time and we have to keep villagers safe during constant aftershocks," he said.
Twenty rescuers are responsible for keeping the villagers in order, about 80 help them pitch tents and the rest are in charge of seeking missing residents in villages near the town.
"When we received our instructions on Saturday night, lots of rescuers wanted to come, but in view of the terrible road conditions we selected the experienced ones," Sitenpo added.
The team started work at 7 am after arriving at the scene, but most rescuers woke earlier, carrying supplies for villagers and clearing rubbish from the ground.
To ensure all villagers can sleep in tents, some rescuers have to sleep out in the open, covered by quilts, according to Sitenpo.
"They understand and can speak some Mandarin, which is another selection consideration," he said. "After all, as we are providing aid for the villagers, we have to be able to chat to them to comfort them and ease their fears.
"Although we are not professional psychologists, our words have helped frightened villagers, especially children and old people," he added.
At about 4 pm on Monday, a group of 20 rescuers arrived in Gucheng village in the town, located injured villagers and helped them remove property from their homes.
A pig pen next to Zhao Sirong's home was wrecked by the quake and had turned into a muddy area in the rain, but rescuers rushed to help her clean up.
The 41-year-old woman thanked them, saying she had never met residents from the Tibetan ethnic group, but they had left a deep impression on her with their work.
When the group was ready to leave her home, Zhao's father patted each rescuer, repeatedly saying "thanks".
Without taking a break, the group then reached a family living near Zhao, helping to move the coffin of a 96-year-old woman who was killed when houses collapsed.
Yanmusho, also a Tibetan, said: "Helping villagers in disaster areas is our responsibility and our task, but our strength is limited. What we can do is to provide aid, such as by moving food and property, for these villagers as soon as possible to reduce their economic losses."
Yanmusho joined the army in 1995 in Beijing. "So I can speak good Mandarin, which makes a great contribution in helping villagers," he added.
On their way to the villages, the rescuers were careful to avoid treading on vegetable plots, and supplied water or food to those who were in urgent need.
Sitenpo said: "The rescue efforts cannot depend on which ethnic group we are from. When our hometown was struck by the massive quake, others gave me great support.
"We will continue our rescue efforts in the following days, ensuring each villager is safe and accompanying them through the hard times."
Related readings:
President Xi confident in recovery from quake 
Premier on site of earthquake devastation 
Commentary: Quake-hit China grows in pain 
China's Air Force starts first airdrop in quake zones 
Snapshots of rescue efforts in quake-hit region 
Nation works to restore post-quake order 
Experts assess quake damage to schools