11,000 relocated after SW China quake
KUNMING - More than 11,000 people have been evacuated to safe areas after a 5.0-magnitude quake hit Southwest China's Yunnan province two days ago, local authorities said on Friday.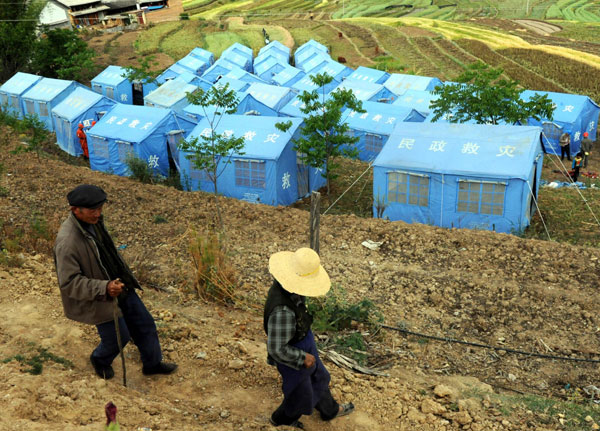 Villagers are relocated to make-shift shelters after the quake in Changyi village, Eryuan county, Yunnan province, April 17, 2013. [Photo/Xinhua]
Two injured people remain in hospital. Another 12 have been discharged after treatment, according to the Dali Bai autonomous prefectural government.
The quake, which hit the border area between Eryuan and Yangbi counties in Dali on Wednesday, left 14 residents injured. A total of 493 houses collapsed and many others were damaged. Nearly 130,000 people were affected.
The local government has allocated several thousand quilts, items of clothing and tents and a disaster relief fund of 2.8 million yuan (about $448,000) to the quake-hit area.
Yunnan is prone to earthquakes. Multiple quakes, measuring up to 5.7 on the Richter scale, struck Yiliang and neighboring areas in Yunnan and Guizhou provinces on September 7, 2012, killing 81 people.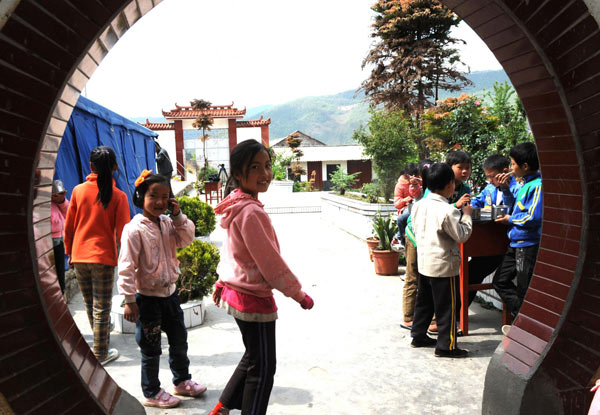 Students play in a school in the quake-hit Eryuan,Yunan province,April 18, 2013. [Photo/Xinhua]