Chinese ambassador calls for anti-terror cooperation
WASHINGTON - New Chinese ambassador to the United States on Wednesday strongly condemned the Boston bombings, while stressing the need for the two countries to enhance cooperation in dealing with global challenges including the threat of terrorism.
Addressing a welcome party held for him by the Chinese embassy, Cui Tiankai expressed deep sorrow and condolences to the victims of the bombings and their families.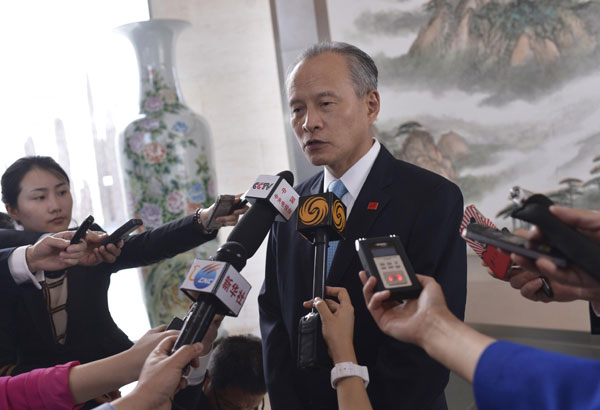 Cui Tiankai, Chinese ambassador to the United States, speaks to media about the Boston blasts, in Washington DC on April 17, 2013. [Photo/Xinhua]
Three people, including a female Chinese student from the Boston University, were killed, and more than 170 people, including another female Chinese student, were wounded in the twin bombings that struck the famous Boston Marathon Monday afternoon.
"We strongly condemn such an act of terror targeted at innocent civilians. We stand with the United States. We are ready to further our cooperation with the United States in fighting terror, " Cui said.
The ambassador also hailed the development of the China-US relationship in the past four decades, which he described as one of the most important and dynamic bilateral relations in today's world.
As the China-US relationship enters a new historic phase, it is the common need, as well as shared responsibility, for the two countries to promote sustained, healthy and steady development of bilateral ties, Cui said.
He noted that Chinese President Xi Jinping and his US counterpart Barack Obama, during their recent phone talks, reached an important consensus on advancing the China-US relationship in the new era.
Cui vowed that China is willing to work together with the US side to explore a new type of relationship between major countries, by expanding mutual dialogue, communication and cooperation, properly handling the complexities in the bilateral ties, and advancing the cooperative partnership based on mutual respect and win-win cooperation.
For his part, US Deputy Secretary of State William Burns expressed his condolences to the Chinese victims in the Boston bombings.
Burns stated it is imperative that China and the US cooperate in dealing with global issues, such as maintaining Asia-Pacific peace and prosperity, fighting climate change, and conducting anti-proliferation, poverty-reduction, and anti-terrorism cooperation.
He reaffirmed the US commitment to working together with China to construct an international system, which is open, inclusive and with shared security and prosperity.
Cui arrived in Washington on April 2 to assume office, serving as the 10th Chinese ambassador to the United States. He served as Chinese vice foreign minister from 2010 to 2013, and prior to that, Chinese ambassador to Japan.