Xi urges close relations with France
Chinese president called for the two countries to boost cooperation
President Xi Jinping urged China and France to deepen strategic trust in an open and innovative spirit and boost coordination and cooperation in bilateral and international affairs on Friday, when meeting visiting French Foreign Minister Laurent Fabius.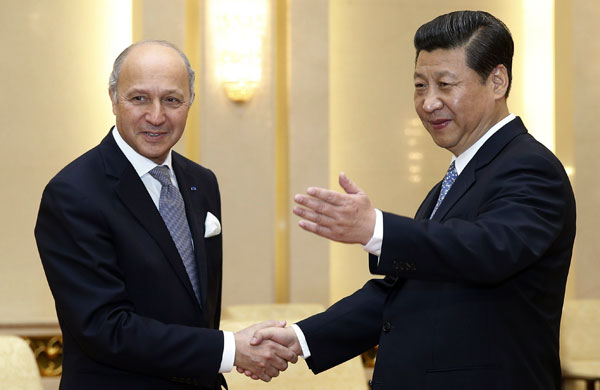 President Xi Jinping meets visiting French Foreign Minister Laurent Fabius at the Great Hall of the People in Beijing on Friday. Photo by FENG YONGBIN / CHINA DAILY 
Fabius made a two-day visit to Beijing to prepare for the upcoming trip of French President Francois Hollande.
The French Socialist president will be the first top leader from a major Western country to visit Beijing since China went through its leadership transition.
Xi said that the development of bilateral ties between China and France — both influential countries on the global stage — will help to build a new win-win model between developed and developing countries.
Xi said that Hollande's visit comes as China and France will see the 50th anniversary of the establishment of diplomatic ties next year.
The Chinese President said that he hopes to exchange views with Hollande on bilateral issues as well as international and regional issues of common concern, and that the meetings will help set the future direction for Sino-French ties.
Fabius said that both countries are dedicated to world peace, stability and development, and that the world needs China and France to enhance their cooperation.
France's top diplomat also met State Councilor Yang Jiechi and his counterpart, Foreign Minister Wang Yi in Beijing.
Boosting political dialogue and coordination on major international issues should be at the heart of Sino-French relations, said Jean Besson, president of the France-China Friendship Group at the French Senate.
"China is now a major global player on almost all fronts. It's therefore important for France to work with China on an equal and true partnership," he said.
The French president, who is expected to visit China in late April, will hold talks with Xi and Premier Li Keqiang. He will also deliver a keynote speech at a university in Shanghai, according to media reports.
Besson, who will accompany Hollande on the visit, said that one of the major purposes of the trip is to deepen the French understanding of China as the French president has never been to the country.
Improving commercial relations and addressing trade imbalances with China will also be among the major topics of the meeting between the top leaders, according to Besson.
Meanwhile, Fabius places greater emphasis on economic diplomacy in a bid to attract more foreign investment in France, which is under pressure to boost economic growth and jobs.
"The presence of Chinese investment in France is still small but growing rapidly," Besson said, noting that Chinese companies have investments worth about 700 million euros ($916 million) and employ nearly 9,000 people in France.
As the Sino-French relationship was rather unstable under former French president Nicolas Sarkozy, Hollande's visit is expected to send a signal for the stabilization of bilateral ties and the beginning of a "new era" based on mutual trust, said Francoise Nicolas, director of the Center for Asia Studies at the French Institute of International Relations.
The visit will set the tone for the future and is extremely important given the current economic difficulties faced by France.
"Economics should certainly be at the heart of the discussion," she said.
During French Finance Minister Pierre Moscovici's visit to Beijing earlier this year, he urged Chinese companies to invest in France, suggesting that the two countries share common interests, Nicolas added.