China's 'Xuelong' returns from Antarctic trip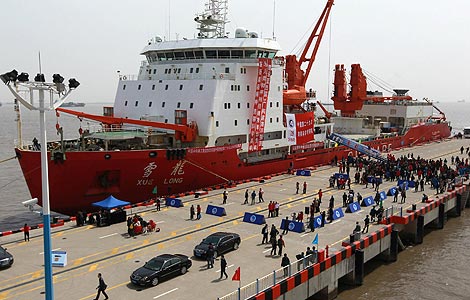 China's icebreaker Xuelong is seen anchored in Shanghai, April 9, 2013. [Photo/Xinhua]
SHANGHAI - China's icebreaker
Xuelong
, or
Snow Dragon
, returned to its anchorage in Shanghai on Tuesday, concluding the country's 29th Antarctic expedition.
The research vessel left the southern port city of Guangzhou on Nov 5, 2012 for Antarctica. It covered 29,000 nautical miles over its 156-day southern voyage, among which 6,000 nautical miles were in ice regions.
A total of 239 researchers on board completed 53 research tasks on biology, ecology, geophysics, ocean, climate, environment and glacier, and engineering construction missions.
Chinese scientists have succeeded in drilling ice cores with a total length of 11.2 meters in Kunlun Station located in the highest zone of the Antarctic ice cover with an altitude of more than 4,000 meters, said Sun Bo, deputy head of the expedition team.
The ice core will be key in unraveling the mystery of ancient climate, Sun said.
The expedition team has also completed site inspections for two new stations to be built in Antarctica, said Sun.
The two stations include a summer station that can be used to provide replenishment and other logistical support and a perennial station that can be used to carry out multi-disciplinary research on bio-ecology and satellite remote sensing, he said.
China launched its first expedition to the Antarctic in 1984 and has established three stations there including Changcheng (Great Wall), Zhongshan and Kunlun.