China-Africa cooperation at strongest
Cooperation between China and Africa is stronger than ever, with China planning to beef up investment in Africa and Chinese companies starting to consider moving abroad, top economists and former officials have said.
"Now is the best period for Asia, especially China, to cooperate with Africa. There will be a surge of cooperation in not only quantity but also quality," said Wei Jianguo, former vice-minister of commerce and current secretary-general of the think tank China Center for International Economic Exchange Center.
He made the remarks on Sunday at a discussion focusing on the rise of Africa at the Boao Forum for Asia Annual Conference. The event attracted renowned economists and leaders from Africa.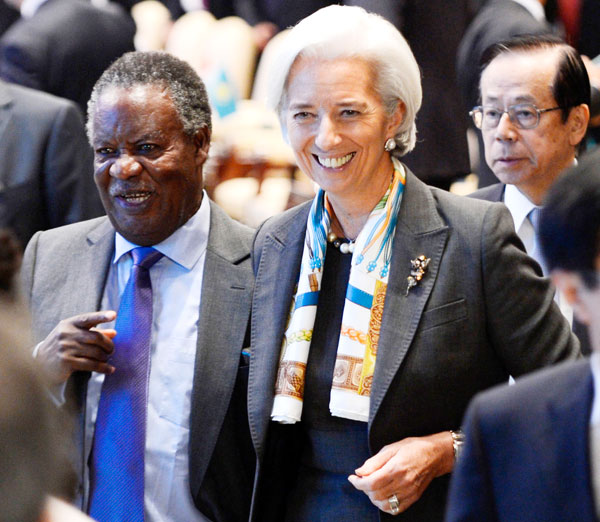 International Monetary Fund Managing Director Christine Lagarde (right) chatting with Zambia's President Michael Chilufya Sata at the Boao Forum for Asia Annual Conference in Boao, Hainan province, on Sunday. LIAO PAN / CHINA NEWS SERVICE
"China will intensify investment in Africa, although our investment in Africa so far has reached $20 billion," Wei said.
He quoted President Xi Jinping's remark on Sunday morning at the forum that in the next five years China would invest $500 billion and import about $10 trillion in goods.
Xi also said that in the coming five years the number of overseas visits made by Chinese people may exceed 400 million.
In 2012, about 60,000 Chinese nationals visited Kenya, Wei said, suggesting the huge boom China may bring to African tourism.
In the past decade, trade between China and Africa rose by a year-on-year average of 22 percent and reached $200 billion in 2012, he said.
"Growing at such a speed, I believe Africa will replace the European Union to become China's largest trading partner."
To facilitate the cooperation, Wei suggested China train more professionals for Africa. Beijing has already trained more than 60,000 people from Africa.
He also talked about the possibility of China setting up a free trade area with Africa.
Lin Yifu, former World Bank chief economist, said the trend of Chinese manufacturers moving abroad will bring opportunities for Africa.
"In the 1960s when Japan rose, the Japanese moved labor-intensive industries to the four Asian Tigers and helped them realize industrialization," Lin said, referring to Hong Kong, Taiwan, South Korea and Singapore, four economies that grew rapidly at that time.
In the 1980s, the "tigers" copied the process and moved industries to the Chinese mainland. Now it is Beijing's turn, Lin said.
Japan moved 8.7 million jobs abroad, while the four tigers transferred about 7 million in total. For China, the figure could be 80 million, he noted.
"China will offer many jobs in Africa to facilitate Africa's rapid transition to becoming an industrialized continent. The process might be completed in two to three decades."
Too much labor in Africa revolves around the agriculture industry. The transfer of Chinese manufacturing to Africa will increase efficiency and enable the local people to earn more and turn their earnings into capital for further growth, Lin said, adding that it will be a sustainable model.
"With close cooperation between Asia and Africa, I believe Africa can be as successful as Asia," Lin said.
Zambian President Michael Chilufya Sata said that Africa is expecting more trade with and more investment and jobs from Asia.
This will inject great vitality into the local economy, he said, adding that it will raise Africa's capability and fulfill the spirit of South-South cooperation.
Abdelkader Bensalah, president of the Council of the Nation of Algeria, said the involvement of African nations at the forum reflects the importance they attach to Asia's experience in development and integration.
He said that Africa was not hit hard by the global financial crisis but nevertheless has structural problems blocking growth of the continent, such as poor infrastructure, basic economic structure, limited local markets and lack of innovation.
"We need Africa and its partners to concentrate on and solve problems. Here I want to especially mention Asia, which has widely recognized experience and technology."
lixiaokun@chinadaily.com.cn