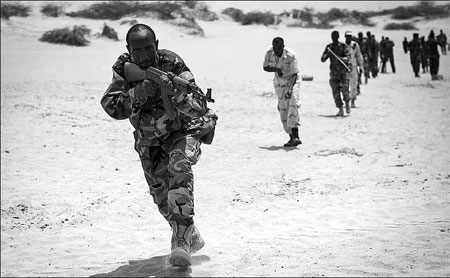 Somali soldiers take part in a training exercise on Thursday on the outskirts of Mogadishu, Somalia. The United Nations has partially lifted an arms embargo on Somalia, which could see the nation receive its first shipment of light weapons soon. Phil Moore / Agence France-Presse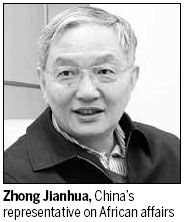 Envoy cites underdevelopment as common problem facing continent
Zhong Jianhua is the Chinese person who probably traveled most frequently between China and Africa in the past year.
After being appointed China's Representative on African Affairs in February 2012, Zhong, a former Chinese ambassador to South Africa, flew to the continent almost constantly, especially its turbulent areas.
Mali, Ethiopia, the Democratic Republic of Congo and Rwanda are among the long list of countries the tireless 63-year-old envoy visited. He also went to Sudan and South Sudan four times in the 12-month period to "learn about the situation, meet people from both countries and hear opinions from different parties while trying to solve their disputes".
In his mediation work, he approaches the issues "by using China's own example to convince the leaders of the importance of peace and stability for development", he said.
China not only hopes for a secure Africa, but also a prosperous one, as both sides share a common future, Zhong said. China is a strong supporter of African integration and unification, he added.
Referring to the difficult issues in four areas of Africa - Somalia, Sudan/South Sudan, Mali and the African Great Lakes region - Zhong said each has its own complexities, but all share the same root cause: underdevelopment, which makes it hard for governments to gain the support of the unprivileged and results in a fragile security environment.
China is providing assistance to these countries to help overcome poverty and improve people's lives, Zhong said. The aid will be continuous and without strings.

China has vowed to deepen cooperation with Africa in the cause of peace and security. Then-president Hu Jintao made the pledge at the Fifth Ministerial Conference of the Forum on China-Asia Cooperation in 2012. He said that helping create a secure environment for Africa's development is one of the five priority areas to boost a new type of Sino-African relationship.
As part of its peacekeeping mission, China sent Zhong to the Mali donors' conference in Addis Ababa, Ethiopia, in January and provided timely aid to the war-torn country to help counter the unfolding humanitarian crisis. He said that China respects the will of the country and its people, and will work closely with the African Union to try to solve the problems.
China's commitment also applies to solving problems in other areas in Africa.
"But there are some people who always consider Africa their 'backyard' or 'colony', pointing fingers at China and saying 'You are doing too much' or 'too little', or even teaching African people what they should do.
"I am afraid that not only will Chinese not listen, African people won't either," Zhong said.
The outside world regards Zhong and his predecessor as troubleshooters and peacemakers. But other crucial tasks run parallel to their mediation efforts, and those are to improve cooperation between the two sides and support Africa's renaissance.
The African economy has entered a period of rapid growth, expanding by 4.8 percent in 2012 despite the global economic downturn. Trade between China and Africa grew from about $10 billion in 2000 to $200 billion in 2012.
Zhong said China especially should have confidence in Africa's future since it has just realized its own dramatic transformation to become the world's second-largest economy.
China's economic miracle is attractive to the African leaders that he meets, and they are eager to learn from China, he said.
Chinese-African cooperation is not new. In the 1970s, Chinese workers helped build the TAZARA Railway, which links Tanzania and Zambia. As "integration" and "unification" become buzzwords in Africa's new era, a large number of new cross-border infrastructure projects got under way to connect the continent and unleash Africa's market potential. China can again play a crucial role in this and other fields, the envoy said.
Qinzhongwei@chinadaily.com.cn
(China Daily 03/30/2013 page7)