Tibet landslide caused by natural factors
LHASA - The massive landslide that buried 83 workers at a mountainous mining area in Tibet a week ago was a geological disaster caused by natural factors, an expert team said Friday.
The six-member expert team headed by a researcher from the Ministry of Land and Resources said in a statement that a steep terrain, a surface layer of detrituses on the mountain, as well as the melting ice and snow contributed to the disaster.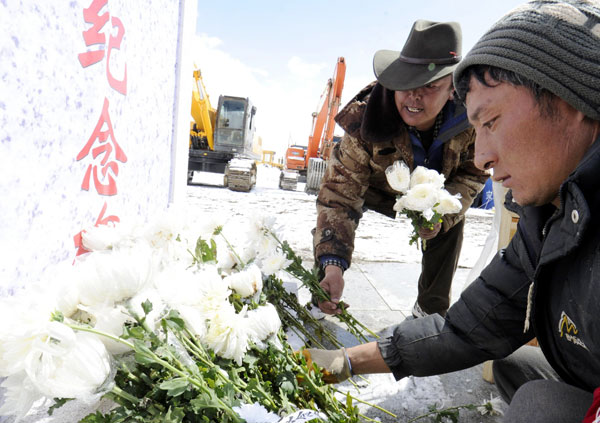 People mourn for the victims in the March 29 landslide in southwest China's Tibet autonomous region on April 4, 2013. [Photo/Xinhua]
The mountain valley in Maizhokunggar County, about 68 km from regional capital Lhasa, where the landslide occurred was a slope of up to 45 degrees and the drop along the 1,980-meter-long landslide is 824 meters high, it said.
Meanwhile, the mountain was covered by a layer of loose rocks from altered igneous and sedimentary rocks and the melting of continuous snow in March following a dry winter reduced the stability of the slope.
Following the landslide that brought down 2 million cubic meters of rocks and mud, several cracks as long as 600 meters occurred on the mountain slope, increasing the risk of further disasters that would threaten the lives of 2,000 rescuers at the site.
The expert team advised local authorities to be on high alert and making further efforts to avoid potential secondary disasters at the site.
Meanwhile the team also urged for sweeping safety checkups of more residential quarters, factories, mines, tourism destinations and makeshift shelters.
The landslide swept through a workers' camp of the Jiama Copper Polymetallic Mine of Tibet Huatailong Mining Development Co., Ltd., a subsidiary of the country's largest gold producer, China National Gold Group Corporation on March 29.
Of the 83 victims, bodies of 66 have been retrieved and the rest 17 remained buried.