Cleanup efforts under way at scene of Lhasa landslide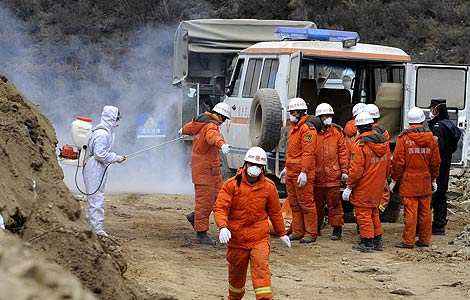 Rescuers disinfect the site of a huge landslide in the Tibet autonomous region, April 2, 2013. [Photo/Xinhua]
Rescuers have started disinfecting the site of Friday's huge landslide that buried 83 workers in a mining area near Lhasa, in the
Tibet
autonomous region, to prevent the outbreak of disease.
Though 36 bodies have been retrieved, the team had not found the others missing, who are thought to be buried under the debris, by Tuesday.
Experts said the landslide has changed the local environment and may have contaminated water resources.
"It is not unlikely that disease can break out in such cases with a prolonged rescue operation," said Li Suzhi, president of the General Hospital of the Tibetan Military Area Command, who led a 60-stong medical team.
The rescue headquarters has organized professionals to conduct disinfection and sterilization at the site of the incident and for nearby residences.
"We have seen some rotting bodies. But we did not observe any intestinal, respiratory, or other kind of contagious diseases here thanks to the preventive measures," said Li.
"We monitored and purified local water resources, especially drinking water."
Two trucks and some 20 epidemic prevention workers dressed in sanitary suits could be seen spraying disinfectant at the site.
The team sprayed 1,000 kg of disinfectant on more than 20,000 square meters of land on Tuesday.
Geng Aimei, head of the epidemic control and prevention team under the Tibetan Military Area Command, said rescuers had been educated about disease prevention.
She said the team regularly changes its masks and gloves, particularly those rescuers who have touched the bodies.
Rescuers also had their bodies cleansed before going into the tents, to avoid bringing pathogens from the accident scene.
Xu Deming, vice-minister of land and resources, said preliminary investigations found the landslide was a natural geological disaster and experts will verify the cause.
Dorje, an academic with the Chinese Academy of Engineering, said loose rocks triggered the landslide.
Returning from a field inspection, he said large glaciers previously covered the area where the landslide originated.
Dorje said rocks hidden under the glaciers broke into smaller, loose rocks over a long period due to stress from thermal expansion and contraction, as well as rainy and snowy weather.
"Smaller rocks near the source of the landslide then collected together and snowballed into a massive landslide that was incredibly destructive," he said.
Contact the writers at wanghuazhong@chinadaily.com.cn and daqiong@chinadaily.com.cn