Going downhill, but raising living standards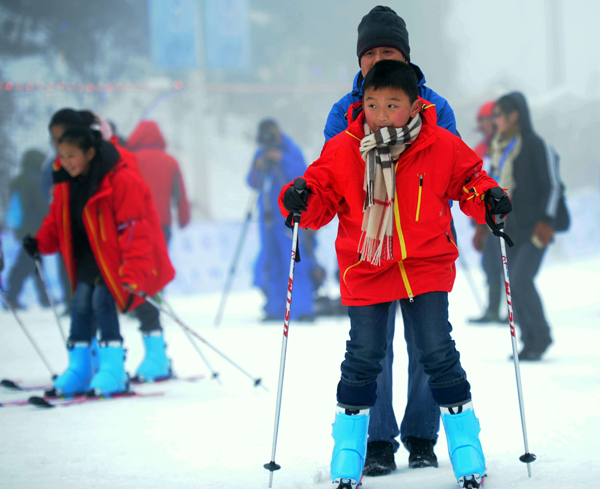 Children learn to ski at the Meihuashan International Ski Resort in Liupanshui, Guizhou province. [Photo/Xinhua]
Once regarded as a winter sports wilderness, Liupanshui, a city in Guizhou province, has overturned expectations and is building an industry based around high-altitude ski resorts to promote winter tourism and lift people out of poverty.
Promoted as part of Beijing's preparations for the 2022 Winter Olympic Games, skiing has enjoyed a surge in popularity in North China, a fact highlighted by the bustling scenes at suburban resorts during the recent Spring Festival holiday.
However, few people would have expected a similar scenario in the country's much warmer, but underdeveloped, southwestern regions, until a recent skiing event shed light on the fledgling businesses of three new resorts built on the rugged terrain that surrounds Liupanshui.
The five-day National Youth Alpine Skiing Invitational Tournament, held from Jan 15 to 19 at the Yushe Snow Mountain Resort and the Meihuashan International Ski Resort on the outskirts of the city, attracted more than 5,000 visitors, half of them from nearby provinces. Many of the visitors were experiencing the chills and thrills for the first time.
Meanwhile, another resort, Wumeng Yunhai in Pan county, 140 kilometers south of the city, has just entered its second year of commercial operations and can host 2,000 visitors a day.
The three resorts, which operate nine skiing trails combined at an average altitude of 2,200 meters, can accommodate 20,000 visitors simultaneously.
"I'd heard about skiing and watched it on TV, and knew how popular it is, especially among people in Northeast China, but I never had a chance to try it until today," said Wei Lijun, a local resident who was offered a free pass to the Meihuashan Resort on the opening day of the tournament.
"It's so much fun, even though I have fallen down many times. It's a totally new experience for a lot of us here," said Wei, who was accompanied by her husband and son.
Situated halfway up the Plum Blossom Mountain, just 10 km northwest of the city, the resort features verdant views along its artificial snow trails, while the temperature at altitude remains cold enough to maintain enough groomed ski runs for the resort to operate for two months during winter.
Racing in the relatively warm environment was a surprisingly pleasant experience for the athletes who participated in the tournament, most of whom train in China's northeastern provinces, where snow is abundant.
"I had no idea that a ski resort could be built in the southern part of the country. It feels so different from the teeth-chattering training sessions at snow-capped resorts in the north; the trees are still green here and we don't need to dress like polar bears during our warm-ups," said Zhang Yuying, after winning the women's slalom at Meihuashan.
Wang Rongtao from Harbin, the capital of Heilongjiang, a winter sports power province, said the ski runs are as smooth as those in more established resorts in the north: "They are shorter here, but the quality of the snow is perfect for racing. Plus the snow here doesn't freeze into ice in the morning like it does in Harbin."
Positive feedback from elite athletes has repaid the efforts made by local governments, businesspeople and village cadres to transform the former industrial hub into an emerging winter sports and leisure destination that will help raise local living standards.